Details

CONNECT WITH OTHERS
Milestones
There are milestones or anniversaries that people remember as a significant event noting a special achievement during the AN journey from a very personal, individual perspective. For some, a milestone can be making a tough treatment decision after months of information gathering. For others, it may be a treatment anniversary, or perhaps reaching a specific goal after treatment. Whether large or small, milestones and anniversaries are meaningful markers and are as unique as the individual.
We hope that seeing these realistic and personal events, submitted by patients, caregivers or family members, will provide a sense that you are not alone and you will find comfort from others that have faced similar circumstances. Together we can make a difference by encouraging others on their AN journey.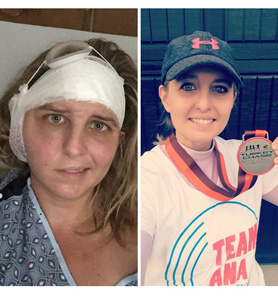 Sample milestone:
At age 33 and mom to two small children, I learned I had a 2.5cm AN. I had successful Translab surgery in May 2017. Unfortunately, I awoke from surgery with facial paralysis and struggled to get back on my feet without help. I wanted to be strong and healthy and get back to what I loved - running. I kept a positive attitude (even though there were plenty of bad days), had an amazing support system and set a goal to run my first race six months post-surgery. I completed a 10K and raised $3,000.00 for ANA!

Submit your milestone/anniversary and upload a photo or video:
SUBMIT A MILESTONE READ MILESTONES
Additional ways to connect with others:
ANA Local Support Groups - in-person learning and support opportunity
ANetwork - peer support program
Community Connections - informal meetings
Event Calendar
Find a Local Support Group
Online Discussion Forum
Support Group Video Library
Support Group Photo Gallery
Patient Video Stories

If you would like to give back by helping other patients, please fill out our Volunteer Interest Form.
Details

SPREAD THE WORD TO RAISE AWARENESS
Wear your AN Warrior shirt and share your AN milestone
If you don't have an ANWarrior shirt, order one today. Shirts will be delivered around May 30.
Help us celebrate or recognize your AN Milestone. Do you have a special moment or anniversary or accomplishment you'd like to share with us? Take your photo wearing your shirt and share your milestone with us.
SUBMIT A MILESTONE READ MILESTONES AN WARRIOR GALLERY
Change your profile image for the week
Facebook - Add the ANAwareness Week frame to your profile picture
Twitter Profile Image Facebook Profile Image Facebook Cover Image
Instagram Profile Image Pinterest Profile Image
Connect with ANA on social media
Comment and share ANA posts and tweets. Post your AN Milestone stories and photos to educate, support and inspire others.
Facebook Twitter@ANAssociation YouTube - ANAssociation LinkedIn Pinterest Instagram
Hold a fundraiser
Visit the Team ANA page for ideas.
Fundraising Event Tips & Guidelines
Templates to get started
Get started locally
Materials for local media:
Sample Letter to the Editor (pdf) Sample Letter to the Editor (docx) Press Release Patient Story (pdf) Press Release Patient Story (docx) ANAwareness Logo 1 ANAwareness Logo 2
Details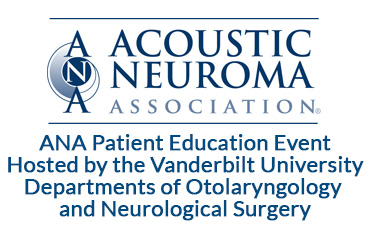 Saturday, September 29, 2018
7:30 AM - 3:30 PM
Vanderbilt University Medical Center
Langford Auditorium
2209 Garland Avenue
Nashville, TN 37232
Please join us for a day of education and support.
Registration will close Friday 9/21/18 at 12pm ET.
If you need assistance, please call us at 770-205-8211
or email Stephanie at This email address is being protected from spambots. You need JavaScript enabled to view it..

Presentations will include panel discussions on treatment options,
surgical approaches, advances in treatment and post-treatment
care, as well as research. There will also be sessions on vestibular
rehabilitation, updates in radiosurgery, facial reanimation, NF2 and
hearing rehabilitation after single-sided deafness. There will be
time for Q&A as well as networking.
For Attendees:
Free parking will be available in the 25th Avenue Garage. A parking pass displayed on your dashboard is required.
MAP PARKING PASS (please print and bring with you)
For those staying at the Courtyard Marriott/Nashville West End, a free shuttle will pick up at 7:00 am
and will drop off back at the hotel after the event at approximately 4:00 pm.
Details

ANA would like to thank all of our sponsors:
Platinum Sponsors


Gold Sponsors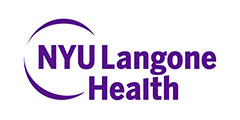 Departments of Neurosurgery and
Otolaryngology - Head and Neck Surgery



Dr. Samuel H. Selesnick and
Dr. Philip E. Stieg


Silver Sponsors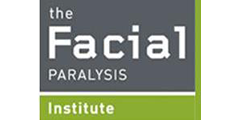 Departments of Neurosurgery and
Otolaryngology - Head and Neck Surgery




Acoustic Neuroma Program at Rush
University Medical Center
Bronze Sponsors
Awareness Sponsors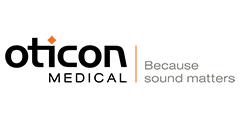 Details
MILESTONES GALLERY
Submit your milestone/anniversary and upload a photo or video: MILESTONE FORM
Note: In no case does ANA endorse any commercial product, physician, surgeon, medical procedure, medical institution or its staff.
---