Details
If you did not fill out an evaulation at the event,
we would appreciate you filling out our brief
PATIENT EVENT EVALUATION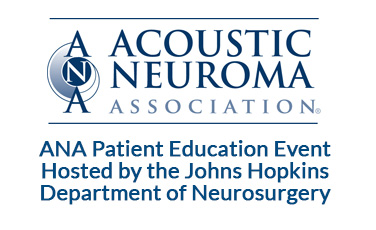 Saturday, May 12, 2018
8:00 a.m. – 4 p.m.
The Johns Hopkins Hospital
Tilghman Auditorium
720 Rutland Avenue
Baltimore, MD 21205
Please join us for a day of education and support.
This event is free and open to acoustic neuroma patients and caregivers. All presenters are physicians/healthcare providers
from the Johns Hopkins University School of Medicine. Lunch will be provided.
Registration is required and space is limited.
Panel Discussion of Clinical Scenarios
Rafael Tamargo, M.D., Director of the Acoustic Neuroma Center, Walter E. Dandy Professor of Neurosurgery
John Carey, M.D., Director of the Division of Otology, Neurotology and Skull Base Surgery, Professor of Otolaryngology-
Head and Neck Surgery
Michael Lim, M.D., Professor of Neurosurgery
Wade Chien, M.D., Associate Professor of Otolaryngology-Head and Neck Surgery
Moderated by Henry Brem, M.D., Chairman and Harvey Cushing Professor of Neurosurgery


Additional Sessions
Hearing Restoration
C. Matthew Stewart, M.D., Ph.D., Assistant Professor of Otolaryngology-Head and Neck Surgery
Vestibular Rehabilitation
Jennifer Millar, M.S., P.T., Vestibular Physical Therapist
Facial Reanimation
Kofi Boahene, M.D., Associate Professor of Otolaryngology-Head and Neck Surgery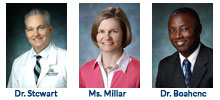 Information for attendees:
Check in opens at 8:00am. Breakfast will be provided from 8:00-9:00am.
The program will begin promptly at 9:15am and end at 4:00pm.
Our program is in the Tilghman Auditorium which is on the ground floor of the Turner Auditorium building (see building diagram). The street address is:
720 Rutland Avenue
Baltimore, MD 21205
There is a drop-off area in front of the building near the security guard station.
There are two options for parking.
Rutland Garage- $12- Directly across from Turner Auditorium
1821 E. Madison Street
Spaces are limited. Tell attendant you are going to the ANA Patient Event.
Washington Street Garage- Free Parking (1 ½ blocks east of Turner Auditorium)
701 N. Washington Street
Directions to the event from parking: Walk down East Monument Street to Rutland Avenue.
A security guard station is located at the entrance to the patio in front of the Turner Auditorium building. The guard can direct you across the patio to the Miller Research building entrance (the Turner entrance is closed on Saturdays, but the buildings are connected on the ground level). Inside the Miller Research building the elevator will lower you to the ground level across from the Tilghman Auditorium.
Both garages are marked on the attached map.
If you need assistance, please call the ANA office at 770-205-8211 or email Stephanie Rommer at This email address is being protected from spambots. You need JavaScript enabled to view it..
Details
So, this is what The Great Brain Freeze can look like...
The Great Brain Freeze by Emily Truell in Montello, Wisconin on April 21, 2018: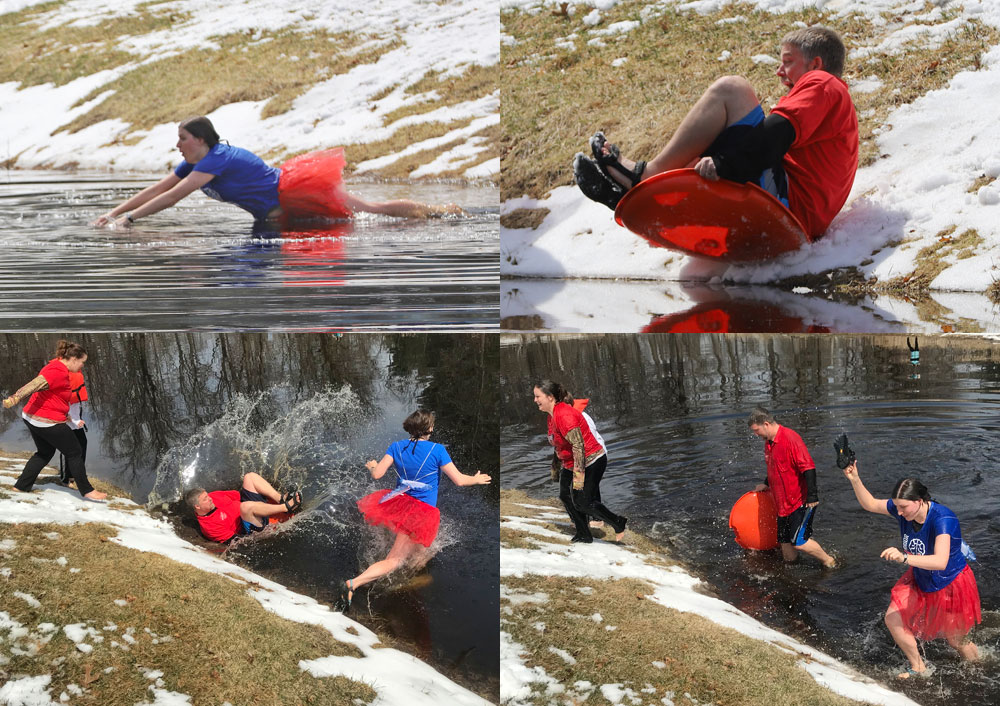 To start planning for The Great Brain Freeze:
- Email This email address is being protected from spambots. You need JavaScript enabled to view it..
- Review the Event Tips and Guidelines and complete and return the Event Information Submission Form.
- Download our helpful templates and The Great Brain Freeze logo (1-color and 2-color formats) to promote your event.
Please make sure that you and your healthcare provider are comfortable with your participation in this type of event. If not, please feel free to contact ANA to explore alternate events.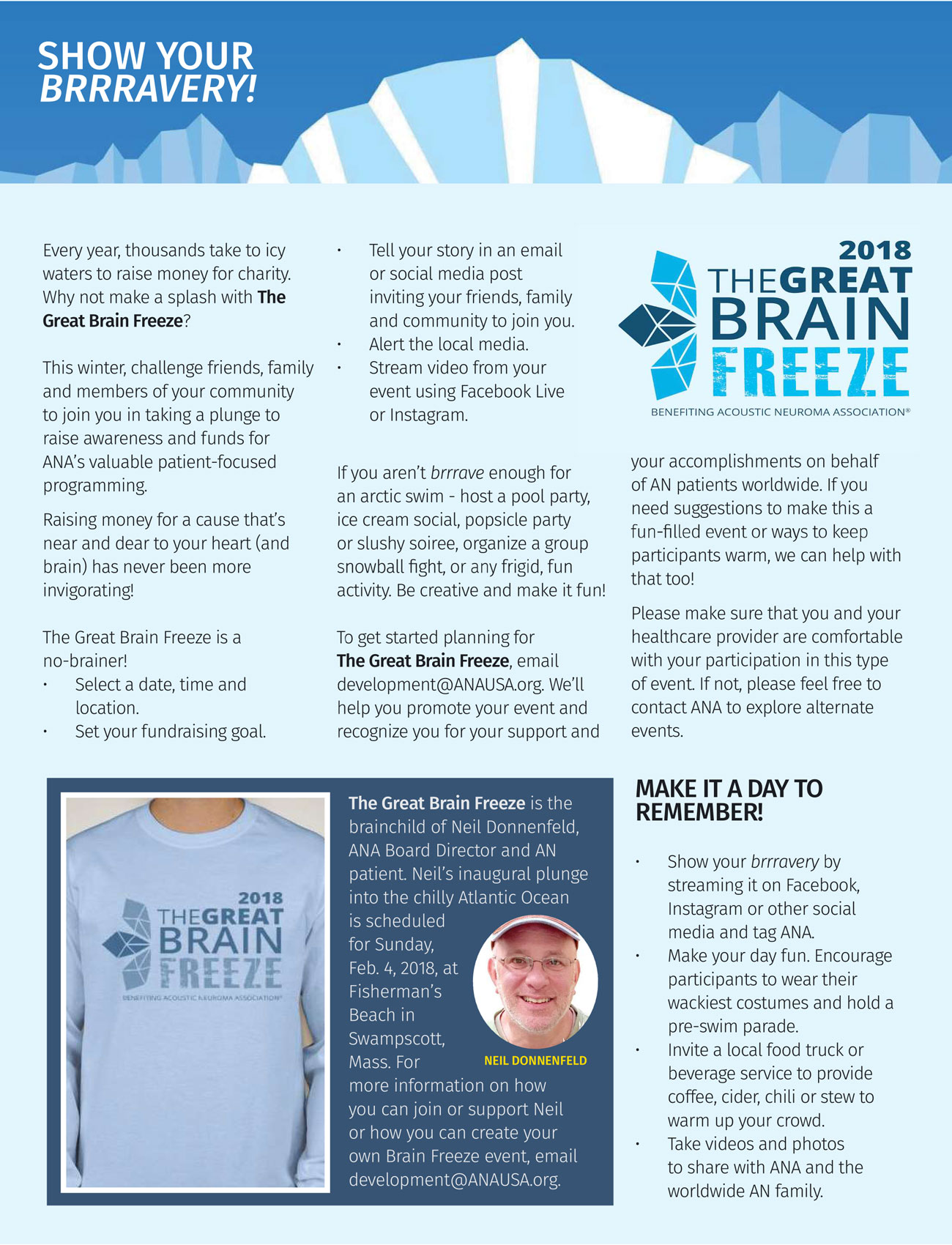 Details
Clint Sarion
Clint Sarion - The Smiling Ninja and an AN Warrior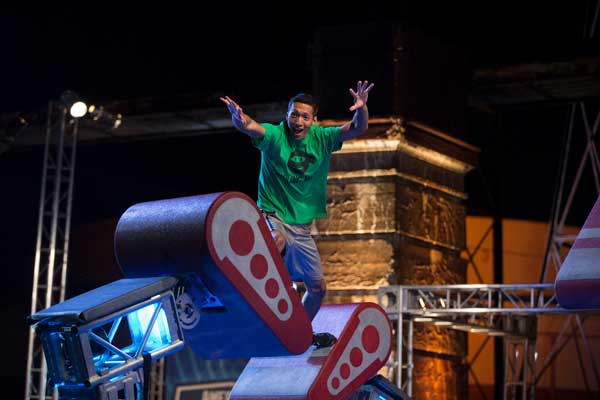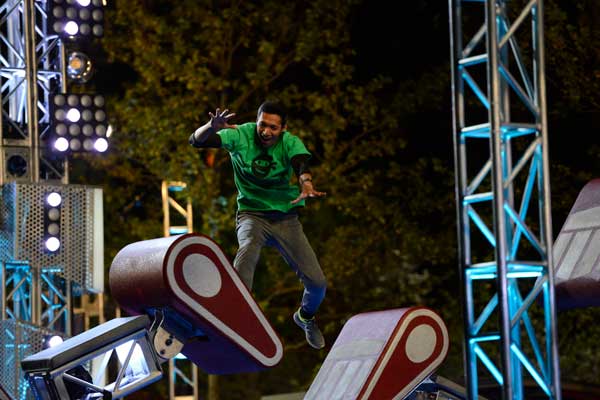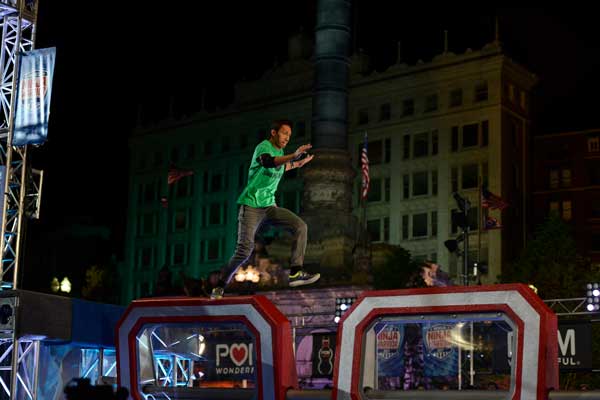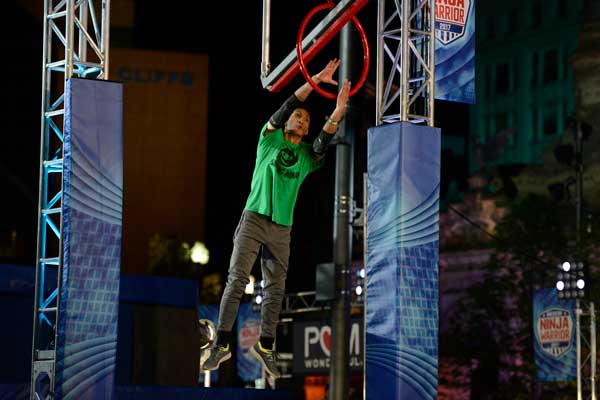 AMERICAN NINJA WARRIOR --"Cleveland Qualifier" -- Pictured: Clint Sarion -- (Photos by: Duane Prokop/NBC)
Read Clint's story https://m.facebook.com/story.php?story_fbid=1514898245477805&substory_index=0&id=1514871015480528
Watch Clint's American Ninja Warrior submission video https://www.youtube.com/watch?v=AnYvr493WUY&feature=youtu.be
Don't forget to tune in on Monday, July 10th to watch Clint in action!
Details
Support Groups by State
ALABAMA
MOBILE
For more information, contact our Manager of Volunteer Programs at 770-205-8211 or email to This email address is being protected from spambots. You need JavaScript enabled to view it.
---


ARIZONA
PHOENIX
Leader: Tracy Denmark Schwimmer
602-561-1855
This email address is being protected from spambots. You need JavaScript enabled to view it.
TUCSON
Leader: Tricia Jennings
520-825-9845
This email address is being protected from spambots. You need JavaScript enabled to view it.
Leader: Carol Franklin
520-722-8340
This email address is being protected from spambots. You need JavaScript enabled to view it.
---
ARKANSAS
LITTLE ROCK
Leader: Hailey Albers
479-586-8454
This email address is being protected from spambots. You need JavaScript enabled to view it.
Co-Leader: Chris Harris
501-541-4989
This email address is being protected from spambots. You need JavaScript enabled to view it.
---
CALIFORNIA
LOS ANGELES
Leader: Leah Keith
This email address is being protected from spambots. You need JavaScript enabled to view it.
Co-Leader: Pam Golum
This email address is being protected from spambots. You need JavaScript enabled to view it.
NAPA/SONOMA
Leader: Judith Hendrickx
707 239 1756
This email address is being protected from spambots. You need JavaScript enabled to view it.
Leader: Peggy Maddock
707-433-5866
This email address is being protected from spambots. You need JavaScript enabled to view it.
PALO ALTO
Leader: Christina Esfehani
650-575-6990
This email address is being protected from spambots. You need JavaScript enabled to view it.
Co-Leader: Mark McLaren
925-838-8175
This email address is being protected from spambots. You need JavaScript enabled to view it.
SACRAMENTO
For more information, contact our Manager of Volunteer Programs at 770-205-8211 or email to This email address is being protected from spambots. You need JavaScript enabled to view it.
SAN DIEGO
Leader: Helen McHargue
760-728-0309
This email address is being protected from spambots. You need JavaScript enabled to view it.
Leader: Margaret Briggs
619-500-6141
This email address is being protected from spambots. You need JavaScript enabled to view it.
Leader: Carol Most Walker
415-889-3547
This email address is being protected from spambots. You need JavaScript enabled to view it.
Co-Leader: Thomas Sattler
415-864-0764
This email address is being protected from spambots. You need JavaScript enabled to view it.
---
COLORADO
DENVER
Leader: Ginnie Ferraro
303-469-6391
This email address is being protected from spambots. You need JavaScript enabled to view it.
---
DC
WASHINGTON, DC
Leader: Allison Shaffer
301-279-9166
This email address is being protected from spambots. You need JavaScript enabled to view it.
Co-Leader: Michelle Nemeth
703-772-7114
This email address is being protected from spambots. You need JavaScript enabled to view it.
---
FLORIDA
FT. LAUDERDALE
Leader: Nanci Heinmiller
561-391-2341
This email address is being protected from spambots. You need JavaScript enabled to view it.
MIAMI
Leader: Jeannie Silver
305-608-1103
This email address is being protected from spambots. You need JavaScript enabled to view it.
NORTH FLORIDA
Leader: Dyanne Hughes
904-624-0940
This email address is being protected from spambots. You need JavaScript enabled to view it.
Leader: Terry Wilford
904-268-3510
This email address is being protected from spambots. You need JavaScript enabled to view it.
ORLANDO
Leader: Chad Nye
863-248-2927
This email address is being protected from spambots. You need JavaScript enabled to view it.
Co-Leader: Elsie Bonilla, Hablo Español
407-273-5697
This email address is being protected from spambots. You need JavaScript enabled to view it.
SARASOTA
Leader: Kim Simington
908-963-8800
This email address is being protected from spambots. You need JavaScript enabled to view it.
---
GEORGIA
ATLANTA
Leader: Meredith Daly
404-659-4032
This email address is being protected from spambots. You need JavaScript enabled to view it.
---
ILLINOIS
CHICAGO
Leader: Ellen Nuebel
847-971-0896
This email address is being protected from spambots. You need JavaScript enabled to view it.
CHICAGO-SOUTHWEST
For more information, contact our Manager of Volunteer Programs at 770-205-8211 or email to This email address is being protected from spambots. You need JavaScript enabled to view it.
---
INDIANA
INDIANAPOLIS
For more information, contact our Manager of Volunteer Programs at 770-205-8211 or email to This email address is being protected from spambots. You need JavaScript enabled to view it.
---
KENTUCKY
LOUISVILLE
Leader: Kathy Gardner
502-593-9224
This email address is being protected from spambots. You need JavaScript enabled to view it.
---
LOUISIANA
BATON ROUGE

Leader: Joan Bonds
225-752-1326
This email address is being protected from spambots. You need JavaScript enabled to view it.
---
MARYLAND
BALTIMORE

Leader: Bob Kaplan
410 698-3225
This email address is being protected from spambots. You need JavaScript enabled to view it.
---
MASSACHUSETTS
BOSTON
Leader: Nancy Marjollet
781-248-3924
This email address is being protected from spambots. You need JavaScript enabled to view it.
SPRINGFIELD
Leader: Deborah Basile
413 537-5840
This email address is being protected from spambots. You need JavaScript enabled to view it.
---
MICHIGAN
West Bloomfield

Leader: Ken Posner
248-464-0808
This email address is being protected from spambots. You need JavaScript enabled to view it.
---
MINNESOTA
MINNEAPOLIS-ST. PAUL
Co-Leader: Tim Gray
612-615-1888
This email address is being protected from spambots. You need JavaScript enabled to view it.
Co-Leader: Steven Blons
612-925-5926
This email address is being protected from spambots. You need JavaScript enabled to view it.
---
MISSOURI
KANSAS CITY
Leader: Dave Kellogg
913-345-1727
This email address is being protected from spambots. You need JavaScript enabled to view it.
ST. LOUIS
Leader: Agnes Garino
314-821-1905
This email address is being protected from spambots. You need JavaScript enabled to view it.
Co-Leader: Phyllis Trulock
314-822-3221
This email address is being protected from spambots. You need JavaScript enabled to view it.
SPRINGFIELD
Leader: Jennifer Miller
417-343-9466
This email address is being protected from spambots. You need JavaScript enabled to view it.
---
NEW HAMPSHIRE / VERMONT
LEBANON, NH
For more information, contact our Manager of Volunteer Programs at 770-205-8211 or email to This email address is being protected from spambots. You need JavaScript enabled to view it.


---
NEW YORK
ALBANY-MID HUDSON
Leader: Tracey Collins
581-382-3283
This email address is being protected from spambots. You need JavaScript enabled to view it.
LONG ISLAND
Leader: Daria Quinones
631-423-3255
This email address is being protected from spambots. You need JavaScript enabled to view it.
NEW YORK CITY
Leader: Miranda Warren Sacharin
646-964-4679
This email address is being protected from spambots. You need JavaScript enabled to view it.
ROCHESTER
Leader: Frank Logosh
585-329-8231
This email address is being protected from spambots. You need JavaScript enabled to view it.
Leader: Tom Banach
585-362-7466
This email address is being protected from spambots. You need JavaScript enabled to view it.
---
NORTH CAROLINA
CHARLOTTE
For more information, contact our Manager of Volunteer Programs at 770-205-8211 or email: This email address is being protected from spambots. You need JavaScript enabled to view it.
EASTERN NORTH CAROLINA
Leader: Stewart Binder
919-624-3256
This email address is being protected from spambots. You need JavaScript enabled to view it.
Leader: Debbie Fletcher
919-471-4389
This email address is being protected from spambots. You need JavaScript enabled to view it.
---
OHIO
CINCINNATI-DAYTON
Leader: Alice Wedding
513-831-0336
This email address is being protected from spambots. You need JavaScript enabled to view it.
CLEVELAND
Leader: Tom Moore
440-454-3282
This email address is being protected from spambots. You need JavaScript enabled to view it.
COLUMBUS
Leader: Melissa Dickens
758-478-8271
This email address is being protected from spambots. You need JavaScript enabled to view it.
---
OREGON
PORTLAND
Leader: David Noyes
503-419-7418
This email address is being protected from spambots. You need JavaScript enabled to view it.
---
PENNSYLVANIA
PHILADELPHIA
For more information, contact our Manager of Volunteer Programs at 770-205-8211 or email to This email address is being protected from spambots. You need JavaScript enabled to view it.


PITTSBURGH
Leader: Joe Vargo
814-242-1662
This email address is being protected from spambots. You need JavaScript enabled to view it.
READING
Leader: Nancy Graffius
610-939-9114
This email address is being protected from spambots. You need JavaScript enabled to view it.
---
RHODE ISLAND (SE NEW ENGLAND)
EAST GREENWICH
Leader: Tony DiBella
401-884-6484
This email address is being protected from spambots. You need JavaScript enabled to view it.

---
SOUTH CAROLINA
COLUMBIA
Leader: Sandra Lail
843-884-9598
This email address is being protected from spambots. You need JavaScript enabled to view it.
GREENVILLE
For more information, contact our Manager of Volunteer Programs at 770-205-8211 or email to This email address is being protected from spambots. You need JavaScript enabled to view it.
---
TENNESSEE
KNOXVILLE
Leader: Linda Dyer
865-591-4763
This email address is being protected from spambots. You need JavaScript enabled to view it.
NASHVILLE
For more information, contact our Manager of Volunteer Programs at 770-205-8211 or email to This email address is being protected from spambots. You need JavaScript enabled to view it.
---
TEXAS
DALLAS-FT.WORTH
Leader: Linda Dorasami
817-244-0615
This email address is being protected from spambots. You need JavaScript enabled to view it.
Leader: Betsy Poer
817-297-3832
This email address is being protected from spambots. You need JavaScript enabled to view it.
HOUSTON
Leaders: Shawn and Connie Wilkins
832-458-0236
This email address is being protected from spambots. You need JavaScript enabled to view it.

Co-Leader: Mike Machula
281-338-4993
This email address is being protected from spambots. You need JavaScript enabled to view it.
SAN ANTONIO
Leader: Teresa Zdansky
210-386-5608
This email address is being protected from spambots. You need JavaScript enabled to view it.
---
UTAH
SALT LAKE CITY
For more information, contact our Manager of Volunteer Programs at 770-205-8211 or email to This email address is being protected from spambots. You need JavaScript enabled to view it.
---
VERMONT-NEW HAMPSHIRE
LEBANON, NH
For more information, contact our Manager of Volunteer Programs at 770-205-8211 or email to This email address is being protected from spambots. You need JavaScript enabled to view it.
---
VIRGINIA
EASTERN VIRGINIA (Richmond)
For more information, contact our Manager of Volunteer Programs at 770-205-8211 or email to This email address is being protected from spambots. You need JavaScript enabled to view it.
ROANOKE
Co-Leader: Johnny Diaz
540-586-0319
This email address is being protected from spambots. You need JavaScript enabled to view it.
---
WASHINGTON
BELLINGHAM
Leader: Marla Bronstein
360-305-0536
This email address is being protected from spambots. You need JavaScript enabled to view it.
SEATTLE-TACOMA-OLYMPIA
Leader: Rodney Davidson
360-387-6037
This email address is being protected from spambots. You need JavaScript enabled to view it.
---
WISCONSIN
GREEN BAY
Leader: Bonnie Simon
920-731-4647
This email address is being protected from spambots. You need JavaScript enabled to view it.
Co-Leader: Audrey Laskowski
920-822-5635
MILWAUKEE
Leader: Judy Jones
414-491-6249
This email address is being protected from spambots. You need JavaScript enabled to view it.
---
Details
Mark Ruffalo's Story
Academy Award nominee actor and AN patient, Mark Ruffalo discusses his acoustic neuroma journey.