Details
Choosing a Healthcare Provider
It is the individual's responsibility to verify the qualifications, education and experience of any healthcare professional, hospital, or other provider of services and products and to assess the suitability of any services or products. In the case of doctors, information is generally available from state medical boards concerning a doctor's number of years in practice, where the doctor went to medical school, if there are any open complaints against the doctor or whether the board took disciplinary action against the doctor's license. Similar information may be available from state licensing authorities concerning other healthcare providers. Read more about researching a provider. Below are a series of questions to consider when choosing a healthcare provider.
Does the medical team have substantial acoustic neuroma experience?
Is the physician Board eligible or Board certified in the related specialty?
Has the physician received specialized training or have significant ongoing practice experience related to acoustic neuroma treatment?
Does the treating physician use a team approach for treatment where applicable, with access to a team or referrals, with the patient having access to all members of the team? In the case of surgery, a neurotologic and neurosurgical team should be used. In radiosurgery, a team would consist of the radiation oncologist, neurosurgeon or neurotologist and radiation physicist.
Are specialists skilled in a variety of rehabilitation issues (facial reanimation, cognitive, vestibular balance, hearing, tinnitus, headache and physical therapy) available before and after treatment as needed?
Is the physician willing to share the number of cases and outcomes with the patient?
Is the physician willing to discuss all treatment modalities with the patient, where applicable, and willing to explain why the physician is making the specific treatment recommendation?
Does the physician allow sufficient time during the initial consultation and subsequently if need be, so that the patient feels all of the patient's questions have been answered satisfactorily prior to making a decision about treatment?
Does the patient feel comfortable with the physician's experience, demeanor, and responsiveness to questions?
Licensing requirements for physicians vary from state to state. To facilitate the verification of the license status of practitioners, most states provide Medical License Lookup web tools. License lookup tools for other health practitioners can be found at the Federation of State Medical Boards.
Details
Each heading slides to reveal information.
Questions to Ask Yourself
Questions to Ask your Doctor
QUESTIONS FOR THE RADIATION TREATING MEDICAL PROFESSIONALS
Click to download and print a copy of these questions to bring to your appointment.
If you have opted for radiation treatment of your tumor, you may want to ask some of the following questions of your radiation therapist, neurosurgeon, or neurotologist. Be sure that you are comfortable with the responses:
How long have you been performing radiation treatment of acoustic neuromas? Have any problems emerged in any of your patients?
Have you been certified to do radiation for patients with acoustic neuromas?
Will this be a one-dose procedure - radiosurgery, or will it consist of several smaller doses - radiotherapy?
What type of radiation treatment (e.g., Gamma Knife, LINAC, CyberKnife, Novalis FSR, proton beam, etc.) do you most commonly perform? What are the advantages of this type of radiation over the others that are available?
Why do you recommend this particular form of radiation treatment over others?
Do you expect hearing, balance or ringing in the ear to be potentially altered by radiation treatment?
Do you anticipate that the tumor will swell after treatment? For how long? If the tumor swells, do you expect there to be any problems? If there are any problems, how would you treat them?
What are the long-term side effects of this treatment? Say 10 years or more? How will I know if something is changing?
Are physicists involved in the planning of your radiation treatment?
What symptoms are commonly experienced by your patients after treatment? How do you define "side effects"?
What are the more serious complications such as malignancy, hydrocephalus and others that can happen with treatment and what are the relative frequencies?
How many of your patients have experienced continued growth of their tumors following treatment? How many of your patients have you followed long-term to draw your conclusion? If this happens to me, what would be my best follow-up procedure? Can I have microsurgery, or can I repeat radiation treatment?
After radiation treatment, may I go about my business as before treatment, or are there any special precautions I should take?
When and how often should I schedule follow-up MRIs after treatment? Will I get these MRIs for the rest of my life?
Why would you choose radiation for me?
QUESTIONS FOR THE ACOUSTIC NEUROMA SURGEON
Click to download and print a copy of these questions to bring to your appointment.
If you have decided to have your acoustic neuroma surgically removed, you may wish to ask some of the following questions of your surgeons. Be sure that you are comfortable with the responses:
How many acoustic tumors have you removed this month/this year and what specific training in acoustic tumor surgery have you had?
What is your total experience in operative cases of acoustic neuroma tumors over what period of time?
What microsurgical approach do you recommend for my tumor size, location, age, health and level of hearing? How comfortable are you with each of the surgical approaches?
Do you feel that the facial nerve results or the hearing results are more important in the long-term outcome? How do you achieve their preservation and what are your success rates?
Do you electrically monitor the facial nerve during surgery?
In your experience, when leaving in small pieces of residual tumor on the brainstem or facial nerve, does tumor growth usually stop?
For a tumor the size and shape of mine, what have been your results with respect to facial nerve function, both temporary and permanent?
What is the likelihood that my remaining hearing will be preserved after this surgery?
Do you anticipate total tumor removal with a single operation? If not, what are my follow-up options? Surgery? Radiation?
Will this surgery be done by a team of physicians with more than one specialty?
What has been your rate of surgical complication with respect to stroke, infection, bleeding, cerebral spinal fluid (CSF) leak and headache?
When and how often should I schedule follow-up MRIs after treatment? Will I get these MRIs for up to 10 years?
Does your hospital have a neurological intensive care unit?
About how many days will I be in the hospital?
What follow-up care will I need?
How much discomfort should I expect from headaches and from the incision after this surgery?
What do you do to minimize post-surgery headaches? NOTE: If you have a history of headaches, discuss this with your physician.
Did you feel comfortable with the surgeon, the information shared, access to a non-biased sample of his/her previous patients?
All other things being equal, when can the surgery be scheduled?
Details
Radiation
Radiation
Radiation therapy is another treatment option for acoustic neuromas. Typically for acoustic neuromas, stereotactic radiation is used because this allows the radiation to be delivered with increased precision to the tumor while minimizing the radiation exposure to the normal, healthy tissues surrounding the acoustic neuroma such as the brainstem, cerebellum, facial nerve, and cochlea.
Stereotactic radiation can either be delivered as single-fraction radiosurgery (SRS) or by dividing the radiation dose over multiple sessions which is termed fractionated stereotactic radiotherapy (FRS). Both forms of radiation (SRS and FSR) work similarly by damaging the DNA within the tumor cells. The cells can no longer divide and eventually die over time, a process called necrosis. Both techniques are performed in the outpatient setting and do not require either general anesthesia or a hospital stay.
Over the last several decades, as the technologies for delivering stereotactic radiation have improved, an increasing number of patients have chosen to receive stereotactic radiosurgery as the primary treatment for their acoustic neuroma. There are several different commercially-available machines that are used to treat acoustic neuromas with the technologies differing in their source of radiation and how the radiation is precisely delivered.
Gamma Knife® machines derive their radiation from a fixed-array of Cobalt-60 sources. These machines are typically used to deliver SRS in a single-session, although the newest platform (Leksell Gamma Knife® Icon™) allows for fractionated delivery (FRS).
Linear Accelerator (LINAC) machines work by accelerating electrons to produce high-energy X-rays. The beam of X-rays (photons) is then shaped to the tumor as it exits the machine using a series of collimators and by rotating either the patient or the machine. LINAC machines are produced by a variety of different manufacturers with common trade names including CyberKnife®, Trilogy®, Novalis Tx™, and TruBeam™ among others, with each machine available for both single-session (SRS) and multi-session (FSR) treatment.
Proton Beam machines use a particle accelerator to generate radiation energy in the form of protons which can be delivered as either SRS or FSR.
Despite their differences, similar results in terms of effectively treating acoustic neuromas and avoiding side effects have been reported for each of the stereotactic radiation machines. The treatment team should consist of a neurosurgeon and/or a neurotologist and a radiation oncologist. The patient and the treatment team typically consider a number of factors before determining whether radiation therapy is appropriate including the size of the acoustic neuroma and the rate at which it is growing, the patient's age and overall health, and the patient's symptoms including the degree of hearing loss, balance problems, and vertigo. Typically, acoustic neuromas that are greater than 2.5 – 3cm in size are not considered ideal candidates for radiation therapy as these larger tumors often compress the surrounding brainstem and the potential for side effects from the radiation is increased.
A very important difference between surgery and radiation for acoustic neuromas is that the tumors do not typically shrink in size after radiation. Although the radiation effectively kills the tumor in more than 90% of patients, the majority of acoustic neuromas remain visible on an MRI but do not continue to grow (i.e., remain stable). Additionally, the tumor can experience internal swelling for up to 12-18 months after the radiation was delivered and this swelling can potentially cause side effects. For this reason, patients with symptoms primarily related to the size of the tumor are often advised to undergo surgical debulking of the acoustic neuroma before any radiation therapy is considered. The amount of hearing loss caused by the acoustic neuroma is another important factor that should be considered prior to any treatment for an acoustic neuroma. The most common symptom that leads to discovery of an acoustic neuroma is hearing loss, but more and more patients are being diagnosed with relatively good hearing on the side of the tumor. Although radiation therapy usually stops the tumor from growing, hearing loss can continue to worsen over time due to damage caused by the radiation to the cochlea and cochlear nerve. Several studies have suggested that the likelihood of delayed hearing loss can be decreased by reducing the radiation dose to the cochlea, but for acoustic neuromas that have grown very close to the cochlea, it is not always possible to decrease the dose to the cochlea while still delivering a high enough dose to the tumor to prevent it from growing. Fractionated stereotactic therapy (FSR) is performed at some medical institutions for patients with intact hearing, as dividing the radiation dose into fractions may potentially minimize the long-term injury to the cochlea and other healthy structures.
Just as for surgery, the experience of the team in treating acoustic neuromas with radiation therapy can affect outcomes. Excellent short- and long-term (>10 years) results in terms of controlling tumor growth have been reported using radiation therapy for acoustic neuromas. When SRS and FSR are used in appropriate candidates, the risks of side effects from the radiation are extremely small. Injury to the surrounding structures such as the facial nerve and trigeminal nerve can result in facial weakness or numbness/pain, but most modern studies have reported the likelihood of these side effects as <1-2%. The long-term rates of hearing preservation following radiation therapy are less clear and depend on a variety of patient-specific complex factors. Additionally, patients with significant vertigo and disequilibrium often do not experience improvement in these symptoms after radiation and may potentially have some worsening after treatment. Although radiation effectively kills the acoustic neuroma by altering the individual tumor cell DNA, the incidence of transforming the acoustic neuroma from a benign to a malignant tumor (i.e., malignant transformation) as a result of DNA mutation has fortunately been extremely rare. The likelihood of this transformation, however,v may be increased in patients with NF-2 who are more prone to tumor formation due to a genetic mutation.
Once radiation has been used to treat the acoustic neuroma, surveillance imaging, typically with MRI scans, should be performed for at least 10 years after the treatment to ensure that the tumor does not continue to show any signs of growth that would require further treatment.
Details
Surgery
Physicians may choose surgery for people with large tumors or tumors that are causing serious problems with balance, persistent headaches or facial pain, or hydrocephalus, a buildup of fluid in the brain.
Hydrocephalus occurs when an acoustic neuroma grows large enough to press on the brain stem, the lower portion of the brain that connects to the spinal cord. This blocks the flow of cerebrospinal fluid—the liquid that surrounds and cushions the brain and spinal cord—from draining properly.
Very small tumors can also be treated with surgery when doctors observe growth or when preservation of hearing is a goal.
Surgery to remove an acoustic neuroma is often guided by computer software that incorporates MRI scans and CT scans, which create three-dimensional images of the brain. The imaging tests help surgeons remove tumors with great precision, while avoiding damage to nerves responsible for hearing, balance, and facial movement.
The surgical approach your doctor uses depends on the tumor size and location and whether preserving your hearing is a priority or an option. All procedures require general anesthesia.
Translabyrinthine Approach
Doctors may use translabyrinthine surgery for any size of tumor that has caused significant hearing loss or where hearing preservation is not possible. During this procedure, the surgeon makes an incision behind the ear and opens the mastoid bone, as well as a portion of the inner ear, which contains structures important for hearing and balance. This gives the surgeon access to the tumor in the internal auditory canal, which acts as the passageway for the eighth cranial nerve—the nerve that runs from the brain to the inner ears—and provides a good view of the nerves so the surgeon can preserve facial function.
The surgeon removes the entire tumor, or as much of it as is safely possible. To reach the tumor, surgeons occasionally remove the cochlea, the part of the inner ear that processes sound, or the otic capsule, which is the bony structure that surrounds the inner ear.
Because a portion of the inner ear is removed during this procedure, hearing is lost in that ear. Balance is usually not a problem because the opposite ear can take over this function, although rehabilitation therapy may be necessary to help you compensate for some loss of balance.
In general, the translabyrinthine approach is the best option when hearing has already been severely affected from the tumor or when tumors are large and hearing preservation is not possible.
Retrosigmoid Approach
Surgeons may use a retrosigmoid approach for smaller acoustic neuromas when hearing preservation is possible. They use this approach for tumors that are growing out of the internal auditory canal and approaching the brainstem.
During this surgery, a surgeon makes an incision further behind the ear to open a portion of the skull called the occipital bone, located behind the mastoid. The cerebellum, a part of the brain located above the brain stem, falls back out of the way, and surgeons remove the bone over the internal auditory canal to fully access the tumor. The surgeons can view the facial nerve, the hearing nerve, and the brainstem.
If removing the entire tumor could damage nerves or brain tissue, the doctor may leave some small bits of the tumor behind. The section of the skull opened to perform this surgery is replaced after tumor removal. Fat from the periumbilical region, meaning the area surrounding the belly button, may be removed and used to seal the closure to prevent spinal fluid leaks.
Middle Fossa Approach
The middle fossa approach is an option for smaller tumors that have not grown beyond the internal auditory canal. As with the retrosigmoid approach, it is used to help preserve hearing. The surgeon makes an incision above the ear in the lateral skull bone, and then uncovers the internal auditory canal, and removes the acoustic neuroma. This approach is the best for saving hearing, which is possible in the majority of people who have the procedure. Then surgeons replace the skull bone and use fat from elsewhere in the body to help close the opening.
What to Expect after Surgery
After surgery, you may spend a few days recovering in the hospital while your doctor monitors you and manages any pain, dizziness, and other symptoms you may be experiencing. If your hearing has been affected by the surgery, your doctor can work with you to explore your options for hearing rehabilitation. Balance is recovered slowly, and most people can return to work in 8 to 12 weeks.
Included with permission by NYU Langone www.nyulangone.com
Subtotal removal is indicated when anything further risks life or neurological function. In these cases the residual tumor should be followed for risk of growth (approximately 35%). If the residual tumor grows further, treatment will likely be required. Periodic MRI studies are important to follow the potential growth rate of any tumor.
Older patients with large tumors causing a threat to life may elect to have their surgeon sub-totally remove their tumor. Partial tumor removal has also been advocated in some patients who have large tumors in their only hearing ear. This surgical management will reduce the tumor in size, so that it may cause no threat to the patient's health during his or her life expectancy. This approach may reduce the probability of facial nerve dysfunction as a result of the surgery.
Near Total Tumor Removal:
This approach is used by experienced centers when small areas of the tumor are so adherent to the facial nerve that total removal would result in facial weakness. The piece left is generally less than 1% of the original and poses a risk of regrowth of approximately 3%. Periodic MRI studies are important to follow the potential growth rate of any tumor.
Total Tumor Removal:
Many tumors can be entirely removed by surgery. Microsurgical techniques and instruments, along with the operating microscope, have greatly reduced the surgical risks of total tumor removal. Preservation of the facial nerve to prevent permanent facial paralysis is the primary task for the experienced acoustic neuroma surgeon. Preservation of hearing is an important goal for patients who present with functional hearing. Both facial nerve function and hearing is electrically monitored during surgery. This is a valuable aid for the surgeon while the tumor is being removed.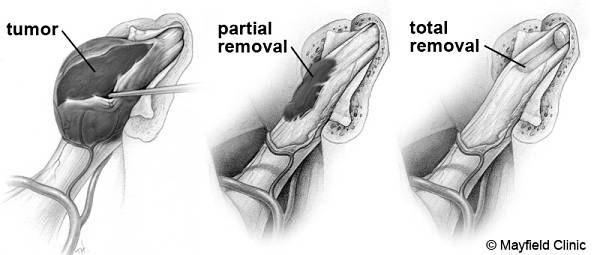 Figure 1. Comparison of partial and total tumor removal. Every effort is made to remove the tumor without damaging the adjacent nerves or vital brainstem functions. Sometimes it may be best to leave small pieces of tumor capsule attached to critical structures rather than risk damage. If over time the tumor remnant grows, futher treatment is warranted. (Printed with permission of the Mayfield Clinic – www.mayfieldclinic.com)
Surgical Procedures:
The surgery is performed by a team of physicians including a neurotologist (ear and skull base surgeon) and a neurosurgeon.There are three main microsurgical approaches for the removal of an acoustic neuroma: translabyrinthine, retrosigmoid/sub-occipital and middle fossa. The approach used for each individual patient is based on several factors such as tumor size, location, skill and experience of the surgeon, and whether or not hearing preservation is a goal. The surgeon and the patient should thoroughly discuss the reasons for a selected appoach. Each of the surgical approaches has advantages and disadvantages, and excellent results have been achieved using all three of the techniques.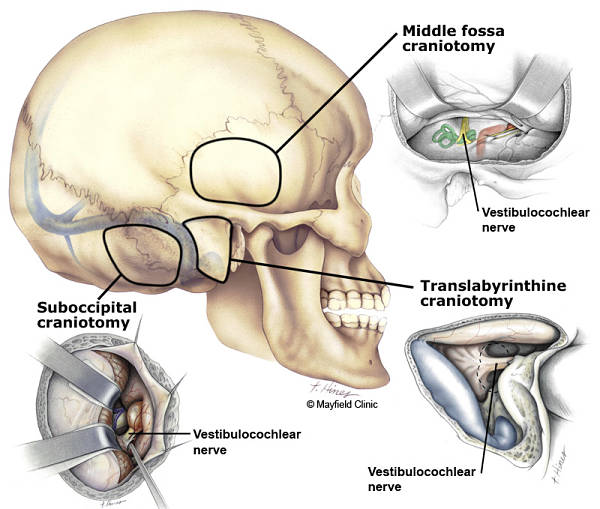 Figure 2. Three surgical approaches to an acoustic neuroma: retrosigmoid/sub-occipital, translabyrinthine and middle fossa.
(Printed with permission of the Mayfield Clinic - www.mayfieldclinic.com)
Details
Observation
Acoustic neuromas may be discovered when the tumor is small or incidentally, when an MRI is performed to evaluate another condition. Since acoustic neuromas are benign tumors and may not be causing symptoms, careful observation over time, potentially over years, may be appropriate for some patients. Some patients will never require treatment for the tumor.
Observation may be appropriate for small tumors, older patients, and patients for whom treatment carries greater risk. Observation over time will be used to determine the growth rate of the tumor and changes in symptoms. If it appears that the tumor will not need to be treated during the patient's normal life expectancy, treatment and its potential complications may be avoided. If the tumor grows, or is causing symptoms, treatment may become necessary.
Patients with a tumor in their only hearing or better hearing ear may also consider careful observation, particularly when the tumor is of a size that hearing preservation with treatment would be unlikely.
With observation, MRI is used to track any tumor growth. Your doctor will determine the frequency of scans. In rare cases, an acoustic neuroma may shrink on its own. Treatment is recommended if either hearing is lost or threatened, symptoms begin to impair quality of life, or the tumor size becomes life-threatening.