Details
Study of Aspirin in Patients with Vestibular Schwannoma
Sponsored by Massachusetts Eye and Ear Infirmary
Dr. Konstantina Stankovic
*Please note: Study participants will have to physically come to MEEI every 6 months for 3 years (7 visits).
What is the purpose of this study?
The purpose of this study is to see if aspirin will prevent tumor growth compared to placebo in patients with sporadic or NF-2 related vestibular schwannoma.
Who qualifies to participate?
Patients who can participate include those with vestibular schwannoma, either sporadic or NF-2 related, aged 12 and older.
What centers are participating in the study?
The centers who are participating are: Mass Eye and Ear, MGH, Mayo Clinic, Stanford University, University of Iowa, and University of Utah.
What happens if I agree to participate in the study?
If you agree to participate in the study and are found to be eligible, you would be randomized to receive daily aspirin or daily placebo (a pill that will look like aspirin, but is inactive). Randomization means that you or your study doctor will not get to choose whether you get aspirin or placebo. You and your study doctor will also not know whether you are on aspirin or placebo.
During the study, you will come see your study doctor and have an MRI and a hearing test every 6 months. You will also be asked to fill out questionnaires about how vestibular schwannoma impacts your quality of life. You will answer these questions two times over the course of the study. We will also draw some blood (about 2 teaspoons each time) to do research on vestibular schwannoma the following times: when you start the study, at 6 months, at 1 year, and every year you are on the study thereafter.
If your tumor grows while you are in the study, you will enter the follow up portion of the study. If it turns out you were given placebo during the randomized portion of the study, you will get aspirin until your tumor grows again.
Everyone will be followed on study for at least 3.5 years.
Would the study cover the cost of treatment?
The study treatment (aspirin or placebo) will be provided to you at no cost to you.
Are there any additional costs or financial benefits to participate in the study?
While you will not be charged for the research blood draws, the rest of the medical care on the study (the study doctor visits, MRIs, and hearing tests) would be done even if you weren't on the study and will be charged to you or your insurance in the usual way.
You will not be paid if you agree to participate in the study.
Are there any additional risks associated with participating in the study?
Aspirin is a very safe and common over-the-counter medication. However, some people have sensitivity to aspirin and should not participate. In addition, a very low percentage (between 1-2%) of people experience minor stomach discomfort from aspirin. An even lower percentage (0.1-0.2%) of people experience more severe symptoms from aspirin such as bleeding, ulcers or stoke. Aspirin use should be avoided in children with flu-like symptoms or fever as it can lead to a very rare disease, with vomiting and mental status changes (Reye's syndrome).
What if I have other questions?
Please contact the primary study coordinator, Amy Quinkert, at 617-573-4192 or This email address is being protected from spambots. You need JavaScript enabled to view it. if you have any questions. You can also contact the site closest to you.
How do I participate?
Please contact one of the following sites to arrange an appointment:
Dr. Konstantina Stankovic or Dr. Brad Welling
Mass Eye and Ear: 617-573-3972
Dr. Scott Plotkin
MGH: 617-724-8770
Dr. Robert Jackler
Stanford: 650-725-6500
Dr. Marlan Hansen
University of Iowa: 800-777-8442
Dr. Brian Neff
Mayo Clinic: 507-284-2511
Dr. Clough Shelton
University of Utah: 801-587-8368
Details
Français:
Ceci est un enregistrement audio en français couvrant des informations de base sur le neurinome de l'acoustique.
Deutsche:
Dies ist ein Podcast, der enthält einige grundlegende informationen über das Akustikneurinom.
Willkommen auf der Acoustic Neuroma Association Website!
Unsere Website, anausa.org, kann Ihnen mit Informationsmaterialien und anderen Ressourcen helfen. Melden Sie heute an!
Español:
Neuroma acústico video con el Dr. Alfredo Quiñones-Hinojosa
Bienvenido a Acoustic Neuroma Association. Nuestro sitio web puede ayudarlo con materiales y recursos y conectarse con un voluntario de habla hispana, ¡como yo! Regístrate hoy.
American Sign Language (ASL):


Details

CONNECT WITH OTHERS
Milestones
There are milestones or anniversaries that people remember as a significant event noting a special achievement during the AN journey from a very personal, individual perspective. For some, a milestone can be making a tough treatment decision after months of information gathering. For others, it may be a treatment anniversary, or perhaps reaching a specific goal after treatment. Whether large or small, milestones and anniversaries are meaningful markers and are as unique as the individual.
We hope that seeing these realistic and personal events, submitted by patients, caregivers or family members, will provide a sense that you are not alone and you will find comfort from others that have faced similar circumstances. Together we can make a difference by encouraging others on their AN journey.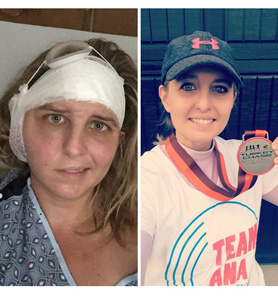 Sample milestone:
At age 33 and mom to two small children, I learned I had a 2.5cm AN. I had successful Translab surgery in May 2017. Unfortunately, I awoke from surgery with facial paralysis and struggled to get back on my feet without help. I wanted to be strong and healthy and get back to what I loved - running. I kept a positive attitude (even though there were plenty of bad days), had an amazing support system and set a goal to run my first race six months post-surgery. I completed a 10K and raised $3,000.00 for ANA!

Submit your milestone/anniversary and upload a photo or video:
SUBMIT A MILESTONE READ MILESTONES
Additional ways to connect with others:
ANA Local Support Groups - in-person learning and support opportunity
ANetwork - peer support program
Community Connections - informal meetings
Event Calendar
Find a Local Support Group
Online Discussion Forum
Support Group Video Library
Support Group Photo Gallery
Patient Video Stories

If you would like to give back by helping other patients, please fill out our Volunteer Interest Form.