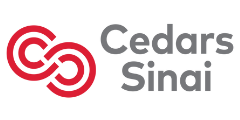 Transforming Acoustic Neuroma Care
There's a reason people across the country turn to Cedars-Sinai for exceptional acoustic neuroma care. Ranked #1 in California and #2 of all hospitals in the country by U.S. News & World Report, we give acoustic neuroma patients access to an unrivaled combination of top-tier talent, compassionate care and measurable results.
The Acoustic Neuroma and Lateral Skull Base Tumor Program at Cedars-Sinai delivers customized care and excellent outcomes for complex tumors many other centers are unable to treat. Our patients and their loved ones rely on us for personalized acoustic neuroma treatments that improve—and save—lives.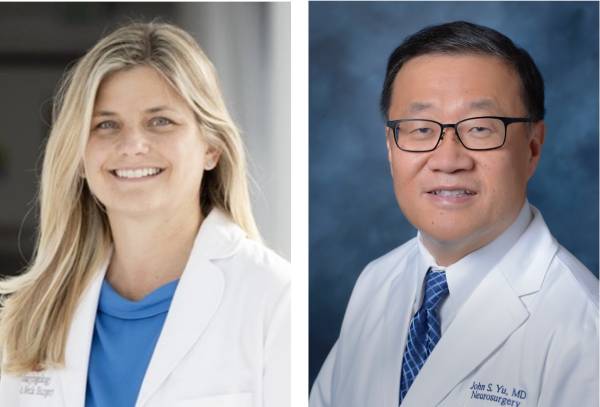 Mia Miller, MD, Neurotologist, and John S. Yu, MD, Neurosurgeon, are Co-Directors of Cedars-Sinai's Acoustic Neuroma and Lateral Skull Base Tumor Program.
Doctors Across Disciplines
Finding the best approach to your acoustic neuroma treatment requires a comprehensive tumor assessment by seasoned professionals spanning a broad range of specialties. It's the Cedars-Sinai difference: a highly skilled, multidisciplinary team working in concert to develop targeted and effective treatment plans that set patients up for success.
Our team at the Acoustic Neuroma and Lateral Skull Base Tumor Program sets Cedars-Sinai apart and features renowned experts in:
Neurosurgery
Neurotology
Otolaryngology
Plastic surgery, with a specialty in facial nerves
Vestibular therapy
Physical therapy
Audiology
Your Care Concierge
Determining what care path is right for you—and then identifying critical next steps on your journey—can feel overwhelming. At the Acoustic Neuroma and Lateral Skull Base Tumor Program at Cedars-Sinai, we encourage you to let us do the heavy lifting. Our dedicated patient navigator ensures we meet all your needs, from coordinating appointments and testing to streamlining communications with your care team.
Surgical Specialties
Surgeons at Cedars-Sinai specialize in two methods of surgery to address acoustic neuromas:
Microsurgery—leveraging precision techniques for tumor removal to preserve patient hearing
Radiosurgery—stopping tumor growth by hitting it directly with focused beams of radiation
Your care team will select the surgical approach best suited to your particular tumor and its specific location, minimizing impact on surrounding nerves that affect hearing, balance and facial muscles.
Optimum Location, Maximum Innovation
In the heart of Los Angeles, Cedars-Sinai is a central destination for leading physicians and scientists from around the globe. They harness knowledge and experience to pioneer medical discovery, advancing possibilities in the treatment of acoustic neuromas and so much more. Ongoing research at the Acoustic Neuroma and Lateral Skull Base Tumor Program includes:
Isolating stem cells from acoustic neuromas to see which ones generate benign tumors—a vital endeavor in discovering new therapies and medications
Utilizing immunotherapy to target acoustic neuromas in patients with neurofibromatosis 2, a genetic disorder that puts patients at risk for tumors
A clinical trial using scorpion venom dye to light up acoustic neuromas before surgery, allowing surgeons to distinguish nerves from tumors visually and decreasing the risk of complications
Schedule a Consultation
To set up a consultation with one of our acoustic neuroma experts, contact us today at 424-314-0628 or email acousticneuroma@cshs.org.
Webinar presentation 10/20/22: Dizziness and Accompanying Issues Related to an Acoustic Neuroma Diagnosis