Details
Annual Sponsorship Program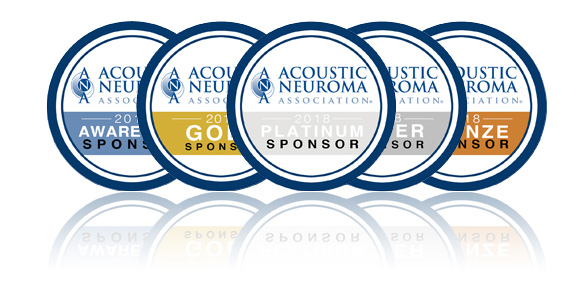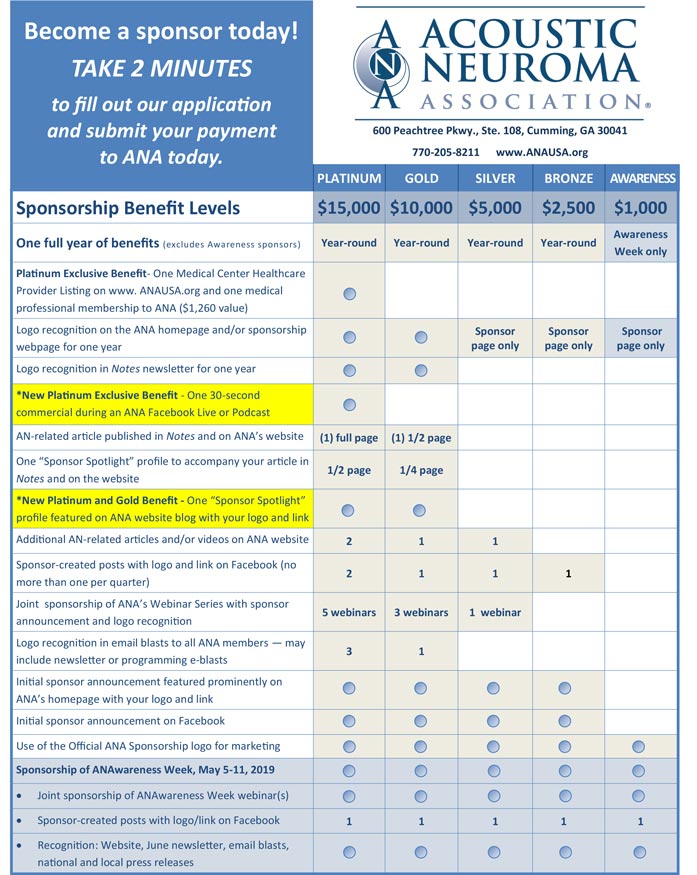 CRITERIA: Sponsorship is for organizations and corporations providing responsible products, devices or services that assist in the diagnosis, education, treatment, management and research of acoustic neuroma.
For more information, contact Jennifer Farmer at This email address is being protected from spambots. You need JavaScript enabled to view it..
NOTE: In no case does ANA endorse any commercial product, physician, surgeon, medical procedure, medical institution or its staff.
Benefits are good for one full year.
Awareness sponsors are excluded from year-round benefits.
Details
Welcome to the ANA Member Portal
Details
ANA MEMBER PORTAL LOG IN
Not a member? Join today
Details
Thank you!
Thank you for your purchase.
You should receieve an email confirmation soon. If you do not, please check your spam and junk folders. And if you have any questions, please contact us at This email address is being protected from spambots. You need JavaScript enabled to view it..
Details
Login to ANA's Portal and Forum
ANA Member Portal
Members Only - Includes past webinars, webinar transcripts, patient information booklets and newsletter library.
(This login will not work for the ANA Discussion Forum.)
Login to the Member Portal
Discussion Forum
Open to the Public - This is a place for you to ask questions or read others' posts on a variety of AN-related topics.
(This login will not work for the ANA Member Portal.)
Login to the Discussion Forum