About the ANA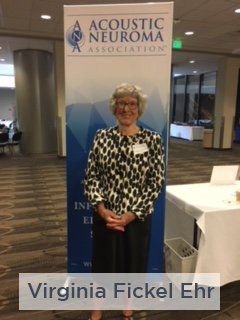 The Acoustic Neuroma Association (ANA) was founded in Carlisle, PA in 1981 by Virginia Fickel Ehr. After having surgery for the removal of an acoustic neuroma in 1977, she resolved that future acoustic neuroma patients should have easy-to-read medical materials about their condition, as well as support and comfort from other patients. With the help of her physician, she contacted eight other patients and formed the Acoustic Neuroma Association. During her decade and a half leading the ANA, Virginia contacted thousands of acoustic neuroma patients and grew the association's services and numbers. She also wrote patient-perspective articles for medical journals and spoke to patient and medical groups throughout the United States and Europe. She retired as President of the Board of Directors in 1992 and now serves as President Emeritus.
The ANA is a 501(c)(3) nonprofit organization (Tax ID 23-2170836) that serves over 3,000 members including acoustic neuroma patients, family members, friends, and healthcare professionals. It is governed by a Board of Directors comprised of patients and family members of patients. Since its founding, thousands of individuals impacted by acoustic neuroma have received comprehensive and non-technical information about AN through the ANA. Information for all stages of a patient's journey is provided in our quarterly newsletters, information booklets, website, webinars, support groups and patient education events.
The ANA is patient-founded and patient-focused.
ANA FAQs