Latest News
Stay up to date on news, events, and other items of interest to our AN community.
Details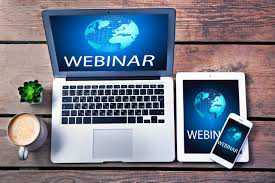 One of the many benefits we offer our members is access to our webinar program. We have been producing webinars since 2013 and have covered a variety of topics that are important to those dealing with acoustic neuroma. These are all contained in our webinar library, which is accessible through our exclusive member section on the ANA website.
Details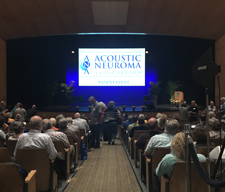 Last Saturday, the Vanderbilt University Medical Center Departments of Otolaryngology and Neurosurgery hosted the second ANA Patient Education Event in Nashville, Tennessee.
Dr. David Haynes welcomed the crowd to Vanderbilt. Cathey Norton, spoke about the value of vestibular rehabilitation both before and after acoustic neuroma treatment, and Dr. Albert Attia explained how radiosurgery or radiotherapy work to treat AN tumors.
Details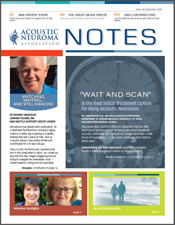 Notes Newsletter Septemer Issue Online Now!
The September 2018 issue of Notes is now available in the ANA Member Section of our website. In this issue:
Details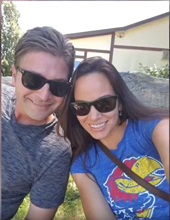 Shanna Adamic was diagnosed with an Acoustic Neuroma that was pressing on her brain stem. This video chronicles her journey from being symptomatic, through diagnosis and treatment and finally recovery.
Details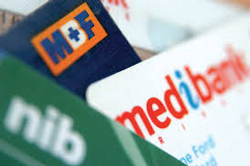 Hearing Health Coverage in the US and Why There Should Be More
Hearing loss affects an estimated 48 million people in the United States, however, in a 955-page document describing health care in this country it is barely mentioned.