Latest News
Stay up to date on news, events, and other items of interest to our AN community.
Details

Sponsor post: Weighing Intervention Timing and Type for Vestibular Schwannomas
This article was re-posted with permission from Vanderbilt University.
DECEMBER 07, 2018
New insights from the largest cohort study of tumor growth.
A significant percentage of vestibular schwannomas (VS), or acoustic neuromas, either grow relatively slowly or with little to no growth. Seeing a patient with an acoustic neuroma for the first time, it is difficult to know how long the tumor has been present, with variability from 5-25 years. Yet to date, there have been no definitive guidelines for weighing observation versus intervention.
Details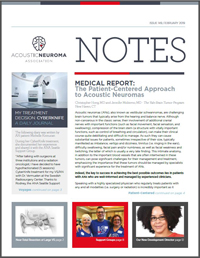 Notes Newsletter March Issue Online Now!
The March 2019 issue of Notes is now available in the ANA Member Section of our website. In this issue:
Details

Sponsor Post:
Treating a Vestibular Schwannoma: Surgery vs Radiosurgery
By Philip E. Stieg, PhD, MD
Neurosurgeon-in-Chief, New York - Presbyterian/Weill Cornell Medical Center
Director, Weill Cornell Medicine Brain and Spine Center
Patients diagnosed with a vestibular schwannoma are often faced with the difficult choice of how (and even whether) to treat it. Vestibular schwannoma is the more precise name for tumors of the acoustic nerve and is now being used more often to characterize acoustic neuromas.
Details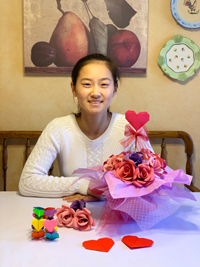 Christina Liao, a high school sophomore from Hacienda Heights, whose uncle was diagnosed with acoustic neuroma in 2015, organized a fundraiser to benefit ANA in her uncle's honor. We are so thankful to Christina for her efforts! Read Christina's story:
Details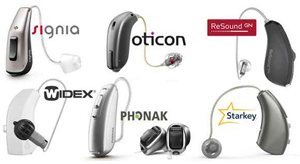 Choosing a hearing device can be a daunting task. Finding one that fits your needs, lifestyle and budget can be a complicated decision.