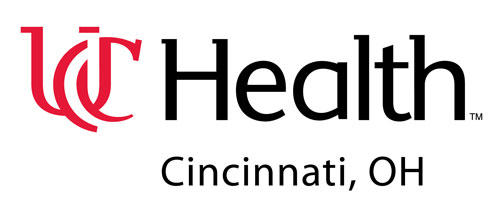 Sponsor Spotlight
UC Health Activates New Sound Processors
The nationally-ranked otolaryngology team at UC Health is relentless about the most complex medical care – and your sore throat.
We combine the clinical expertise of an academic health system with compassionate, patient-centered care to solve your ear, nose and throat problems. Our team-based approach includes treatment plans tailored to your lifestyle, and our team works closely with referring physicians to ensure seamless care.
At the University of Cincinnati Medical Center, our otolaryngologists provide comprehensive, sophisticated care in one location. We perform many established procedures, such as minimally invasive video-assisted surgery, along with new procedures such as hypoglossal nerve stimulator implant therapy for obstructive sleep apnea, and implantation of the Nucleus 7 sound processor to restore hearing loss.
UC Health is one of just 15 centers in the U.S. to perform auditory brainstem implantation, and in September 2017 it became the first in the nation to activate the Nucleus 7 sound processor for an ABI patient. We maintain a hearing preservation approach to cochlear implantation, and we are a clinical trial site for ongoing studies on the hybrid cochlear implant. Our otolaryngology team is eager to solve your ear, nose and throat problems and restore you to wholeness. Every day, we help patients find relief they never thought possible.
For information or to make an appointment, visit uchealth.com or call (800) 272-4645.
Sponsor Content
Hearing Again is History in the Making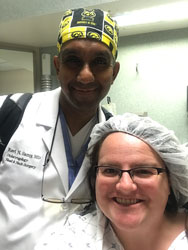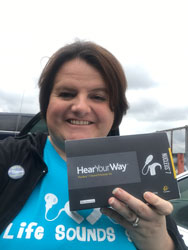 2017 was a year that Jess Toews will never forget.
After an eight-year battle with hearing loss caused by Neurofibromatosis type 2, the 35-year-old mother of two was finally able to hear her two young children say, "I love you, mommy," thanks to the expertise of Ravi N. Samy, MD, FACS and the Otolaryngology team at UC Health.
"I am so blessed to have the opportunity to hear," Toews said. "When my kids are having temper tantrums, it's also really awesome that I have the ability to not hear as well. I don't view my deafness as a disability. My journey has provided some amazing opportunities."
That journey began in 2009, when she began experiencing pain on the left side of her head. At first, doctors thought it was pain due to teeth grinding. But an eventual MRI revealed two brain tumors, one on each of her auditory nerves – and one considered life-threatening.
The treatment for those tumors saved her life, but it also took her hearing.
In 2016, however, Toews was referred to UC Health and the nationallyrecognized ENT program at University of Cincinnati Medical Center. During that initial visit, Dr. Samy happened to be wearing brightlycolored jelly bean socks. He didn't know that Toews had adopted "crazy socks" as a way of bringing positivity into her health struggles – but Toews noticed his socks, and knew that she had found the right place.
In 2017, Dr. Samy and his team performed both a cochlear implant and an auditory brainstem implant (ABI) to restore her hearing. And in February 2017, Toews was finally able to hear her children's voices.
"Jess is an inspiration to our entire team, and we were blessed to get to know her," Dr. Samy said.
In September 2017, Toews ended her journey by making history: she became the first patient in the nation to receive the Nucleus 7 sound processor with an ABI, a procedure performed by Dr. Samy. The device allows her to wirelessly stream sound directly into the ABI from any Apple-compatible device.
"The gift of hearing is priceless," she said. "I started 2017 as a deaf girl, but I get to finish this year with surround sound."
With her hearing restored, Toews will continue to serve the children's ministry at her church in Kentucky and to volunteer at her children's elementary school, where she teaches the students about cochlear implants and shows them sign language.
"I use every opportunity I can to educate people," she said. "The world needs to know that life is hard. Bad things will happen. Your response to those things will change the outcome. Will you choose to stay knocked down or will you get up and use the situation for something good?"
Note: In no case does ANA endorse any commercial products, surgeon, medical procedure, medical institution or its staff.