Sponsor Spotlight
At the USC Acoustic Neuroma Center, the patient is at the center of a team that understands the complexities of the acoustic neuroma journey. We partner with our patients to create not only an individualized treatment plan, but lifelong relationships.
Our neurotologists, neurosurgeons and multi-disciplinary teams offer compassionate care with a personal touch. We are here to help you understand your condition and all treatment options, from observation, radiosurgery, and the latest microsurgical techniques.
As an academic medical center, our providers are training the next generation of specialists using innovative approaches spearheaded by their world-renowned research.
No matter where you are, we're in this together. A complimentary phone consultation is available; call the USC Acoustic Neuroma Center at (323) 442-8063 or visit www.acousticneuroma.keckmedicine.org.
Sponsor Content
A panel of experts at the USC Caruso Department of Otolaryngology-Head and Neck Surgery share their knowledge of patient's most pressing questions regarding acoustic neuromas (AN). It includes department Chair John S. Oghalai, MD, whose expertise is shared through his skull base surgery textbook and other scientific publications; neurotologist Joni Doherty, MD, PhD, who began the first FDA-regulated clinical drug trial for treating neurofibromatosis 2-associated vestibular schwannomas using molecular-targeted therapy; Courtney Voelker, MD, PhD, Division Chief of Neurotology; and Amit Kochhar, MD, Director of the USC Facial Nerve Center.

What are the symptoms of AN?
Initial symptoms of AN include hearing loss (usually asymmetrical, where one ear hears worse than the other), tinnitus (ringing in the ear), imbalance, and intermittent dizziness or vertigo. Large tumors may present with headaches, facial numbness or weakness.

What causes an AN?
AN can be caused by genetic mutations of the neurofibromin gene, NF2. This mutation can be inherited, or occur spontaneously. There is currently no credible evidence that AN are caused by cell phone use or other environmental exposures. Further research is needed to determine factors that contribute to the growth of this rare tumor.

What are the treatment options for AN?
Every individual's needs are unique and there is no singular approach to treating patients with AN. Management of AN requires a review of symptoms, hearing, vestibular function, and imaging. Providers at the USC Acoustic Neuroma Center are experts in the full gamut of treatment; a consultation with a board-certified surgeon will address all management options and concerns. Treatment approaches include (1) observation, usually for smaller tumors with few symptoms; (2) radiation therapy; and (3) surgical resection to remove the tumor.

What are possible complications?
The USC Acoustic Neuroma Center strives to be proactive in managing all potential complications. Although the natural course of AN includes gradual hearing loss over time, radiotherapy and surgery may increase that risk. Most cases of sudden hearing loss can be recovered if treated timely (less than two weeks); treatment includes oral steroids. Also, delayed or prolonged facial nerve recovery the following removal of AN is very rare. The comprehensive program at USC includes the USC Facial Nerve Center, which specializes in facial plastic and reconstructive surgery, and non-surgical interventions.

What are important things to consider when choosing a provider?
With AN, every journey is different, so it is best to identify an experienced, comprehensive center that can create a customized plan. The high surgical volume at the USC Acoustic Neuroma Center ensures that the multi-disciplinary team has had extensive experience treating the unique needs of patients with AN. The team includes some of the world's most renowned providers who are committed to elevating quality of life to its fullest potential.
Two Opportunities of a Lifetime
By Dawn Fishback, PA-C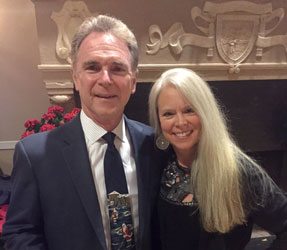 As I lay in the MRI scanner in January 1982, I knew something was wrong. Being a PA Student at USC's Physician's Assistant (PA) Program, I knew the numbness I was feeling on the left side of my face was not normal.
Sure enough, I was right. My general surgeon friend called me with the results. He started with, "I have some good news and some bad news, which do you want first?" He told me I had a large tumor which was probably an acoustic neuroma. (That was the bad news). The good news was that it is 99% benign and, "I've got just the neurosurgeon for you who can take it out…Steven Giannotta, MD at USC."
Being in the medical profession, I knew I needed to get a few opinions. I first saw a famous neurosurgeon who told me in his hands, there was a 0% risk to my facial nerve. Even though my husband liked this percentage, I told him that this neurosurgeon wasn't going to touch me. I value honesty and this guy obviously was lacking in this area.
Dr. Giannotta was honest, comforting, confident and encouraged me to seek out other opinions. He most wanted me to be comfortable with my decision as to who would do my surgery. Now this is someone who I could trust!
After seeing four neurosurgeons, I chose Dr. Giannotta. Once I made that decision, everything was out of my hands. The only thing I had control of was picking my neurosurgeon. After that, the outcome is in his and God's hands, and I was then able to relax.
I had a translabyrinthine craniotomy on February 28, 1990. Dr. Giannotta was able to resect all of the tumor and save my face. One hundred percent successful. At my first post-op visit, he offered me a job saying, "Someday when the new hospital opens and we get busy, I would love for you to be my PA. You have something to offer my patients that I can't… empathy." I knew I wanted to specialize in a surgical specialty but had no idea it would be neurosurgery. It was at this point that I realized why God gave me this tumor. I have the opportunity to work with a world-renowned neurosurgeon and be able to care for patients who are going through exactly what I experienced. I am blessed!
It's been almost 26 years since I became Dr. Giannotta's PA and what a fantastic career I have had. He has given me two gifts… curing my tumor allowing me to live a full life with no limitations, and the professional opportunity of a lifetime to be able to care for his patients. I am able to watch the miracles he performs every day here at Keck Medical Center of USC and am forever grateful!
Note: In no case does ANA endorse any commercial products, surgeon, medical procedure, medical institution or its staff.