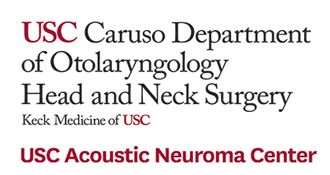 Sponsor Spotlight
The world-renowned USC Acoustic Neuroma Center in Los Angeles, CA is led by a team of exceptional surgeons. They include skull base Neurosurgeon Steven Giannotta, MD and Neurotologists, John S. Oghalai, MD and Courney Voelker, MD, PhD.
Our center is committed to exceptional outcomes and comprehensive care for the treatment of acoustic neuroma. While utilizing the most advanced technologies in modern facilities, we specialize in all forms of care and offer individualized treatment paths including observation, radiosurgery and all micro-surgical approaches.
Our program recognizes that the acoustic neuroma journey is complex with many factors to be considered. Our highly experienced team strives to support patients with a customized plan that begins with the first phone call to long after the day of treatment. Educating patients and their loved ones is at the heart of what we do.
For more information about our program, please visit our website at www.acousticneuroma.keckmedicine.org or connect with us on Facebook at https://www.facebook.com/USCAcousticNeuromaCenter.
If you would like more information about our center or if you would like to have a complimentary review of your records, please call 323-442-4827.
Sponsor Content
Two Opportunities of a Lifetime
By Dawn Fishback, PA-C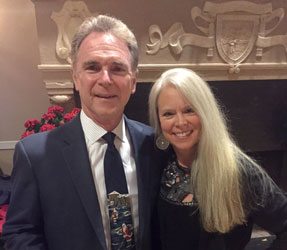 As I lay in the MRI scanner in January 1982, I knew something was wrong. Being a PA Student at USC's Physician's Assistant (PA) Program, I knew the numbness I was feeling on the left side of my face was not normal.
Sure enough, I was right. My general surgeon friend called me with the results. He started with, "I have some good news and some bad news, which do you want first?" He told me I had a large tumor which was probably an acoustic neuroma. (That was the bad news). The good news was that it is 99% benign and, "I've got just the neurosurgeon for you who can take it out…Steven Giannotta, MD at USC."
Being in the medical profession, I knew I needed to get a few opinions. I first saw a famous neurosurgeon who told me in his hands, there was a 0% risk to my facial nerve. Even though my husband liked this percentage, I told him that this neurosurgeon wasn't going to touch me. I value honesty and this guy obviously was lacking in this area.
Dr. Giannotta was honest, comforting, confident and encouraged me to seek out other opinions. He most wanted me to be comfortable with my decision as to who would do my surgery. Now this is someone who I could trust!
After seeing four neurosurgeons, I chose Dr. Giannotta. Once I made that decision, everything was out of my hands. The only thing I had control of was picking my neurosurgeon. After that, the outcome is in his and God's hands, and I was then able to relax.
I had a translabyrinthine craniotomy on February 28, 1990. Dr. Giannotta was able to resect all of the tumor and save my face. One hundred percent successful. At my first post-op visit, he offered me a job saying, "Someday when the new hospital opens and we get busy, I would love for you to be my PA. You have something to offer my patients that I can't… empathy." I knew I wanted to specialize in a surgical specialty but had no idea it would be neurosurgery. It was at this point that I realized why God gave me this tumor. I have the opportunity to work with a world-renowned neurosurgeon and be able to care for patients who are going through exactly what I experienced. I am blessed!
It's been almost 26 years since I became Dr. Giannotta's PA and what a fantastic career I have had. He has given me two gifts… curing my tumor allowing me to live a full life with no limitations, and the professional opportunity of a lifetime to be able to care for his patients. I am able to watch the miracles he performs every day here at Keck Medical Center of USC and am forever grateful!
Note: In no case does ANA endorse any commercial products, surgeon, medical procedure, medical institution or its staff.
Flight Attendant Chooses Surgery at USC Acoustic Neuroma Center
By Patty Summers
Meridian, Idaho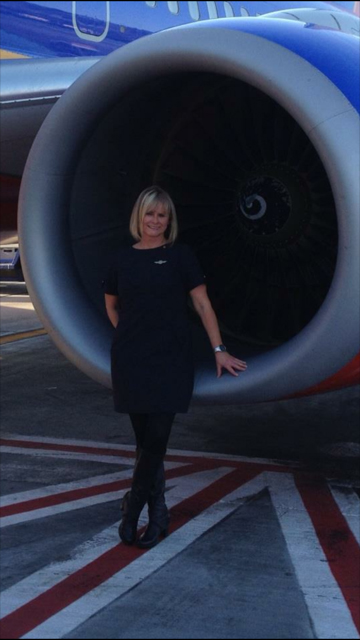 I awoke early on the morning of February 10, 2016, to commute from Boise, Idaho to Denver, Colorado, for my job as a flight attendant. Just before starting my trip, I received a call from my ENT regarding the MRI scan I had the previous day.
I had been diagnosed with Meniere's Disease five years ago, and my symptoms had been flaring up. The MRI was ordered as a precaution and I was not expecting anything out of the ordinary to show up. However, on that morning call, my doctor delivered the shocking news that I did not have Meniere's Disease. I had the symptoms of a benign brain tumor called an acoustic neuroma.
I was speechless and overwhelmed at this turn of events!
In the weeks that followed, I researched my condition. I found the ANA website extremely helpful, providing me with a solid foundation of knowledge.
The first recommendation I received from a local neurosurgeon was to undergo radiation, so I did more research on this option. In doing so, I realized that radiation probably was not the best option for me. I wanted to pursue long-term hearing preservation, and I had increasing balance issues plus dizziness and vertigo. I even had an attack of vertigo while driving!
My symptoms were becoming worrisome and directly impacting my quality of life. I love my job and I do CrossFit three times a week. With worsening symptoms, my lifestyle came to sudden halt by the end of February. I couldn't drive, work out or do my job.
Within my social media network, the names Dr. Rick Friedman and Dr. Steven Giannotta at the USC Acoustic Neuroma Center came up repeatedly.
I forwarded my records for a phone consultation and soon received a call from Dr. Friedman. I was very impressed with his knowledge, professionalism and demeanor. Within a few days, I knew I had my treatment plan and team in place! My surgery was scheduled for April 5, 2016, and needless to say, the anxiety was pretty high waiting for the day of treatment! During this time, I did my best to stay positive and busy.
When I arrived in California, I met the entire treatment team at USC who immediately put me at ease. I was very impressed with their depth of compassion and commitment to the individualized care of their acoustic neuroma patients.
Most importantly, my retrosigmoid surgery could not have gone better. My hearing and facial nerve remained intact and my tumor is 100% gone. Words cannot describe my happiness with the result.
Since flying home to Idaho seven days after surgery, I have worked hard to try to get my "normal" back. Within two weeks post-op, I was walking at least two miles every day, doing my vestibular therapy exercises consistently and managing some light workouts. Around four weeks after surgery, I felt up to driving.
At that time, I did a 5k with my granddaughter, Taylor. I walked of course, but I wasn't exhausted afterward either.
I am also proud to report that I just spent three days at Disneyland with my family. My Fitbit showed we walked seven miles each day! My recovery is still a work in progress. I still have some "dizzy" days and I am still fighting some fatigue, but I stay focused on making forward progress at any pace!
I am now ten weeks post-op and I returned to work on July 1st, which is something I was not sure I would do again.
These months since surgery have not been easy, but every day is an improvement! This journey has been challenging but I am learning a lot about myself and my strength. The only way to overcome hard luck is hard work. We have all heard the quote "Success is a journey, not a destination."
Note: In no case does ANA endorse any commercial product, physician, surgeon, medical procedure, medical institution or its staff.
---
Sponsor Content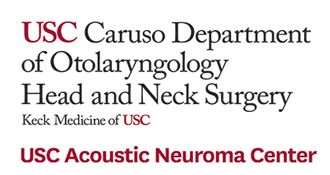 By Dr. Rick Friedman
Acoustic Neuroma is a benign tumor that affects generally healthy people during the prime of their lives. The complex location of these tumors, next to the brainstem and other vital neural and vascular structures, makes the care and treatment exquisitely delicate.
This fact, in concert with the rarity of AN accounts for the small number of highly experienced professionals and the difficulty patients have in finding reliable information upon diagnosis.
I am continually struck by the initial feeling of shock, followed by fear, experienced by virtually every patient I meet with a newly diagnosed tumor. I cannot help but understand these reactions, with the feelings I had when my second child needed hospitalization for sudden and unexplained anemia as an infant. This problem was entirely out of my area of expertise and I was left to simply trust our doctors. This circumstance came on unexpectedly and there was little time to investigate.
In contrast, AN treatment is rarely an emergency and affords you, the patient, the opportunity to explore all of your options and establish a relationship with a trusted health care team at a center that specializes in the management of these rare tumors.
The luxury of time to consider one's options is a mixed blessing. It is rare for a newly diagnosed patient to have any expertise in this area. Most have been going along through life, in their respective profession, never dreaming they would suddenly need to have a working knowledge of the anatomy of the cerebellopontine angle and the ability to discern a very controversial body of literature on the management of these tumors.
Prior to making any choice regarding your care or that of a family member you should consider three steps:
Acquire basic knowledge about AN and your tumor specifically
Speak with other AN patients and family members
Identify a center of excellence program that feels right to you
Acquire basic knowledge
The internet has become a tremendous resource for patients with medical questions and problems. On top of this overwhelming amount of information available with a basic web search, is the large presence of social media and patient support communities. This enables you to connect with other AN patients at the touch of your finger. This is a tremendous opportunity to lessen the feeling of isolation that can come with a rare diagnosis and find invaluable support. Having said, information gained via social media outlets should be used a reference of what the experience and treatment may involve, but not taken as medical advice in lieu of a comprehensive consult with an experienced AN provider. It is also important to understand that each patient has multiple variables associated with their tumor that requires individualized treatment plans and expectations. We know that although there are many similarities between patients, each person's experience is unique to them and should be treated as such.
There are more websites providing medical information on acoustic neuroma than there are patients diagnosed in a year (maybe a small exaggeration). There is good information and not so good information. The underlying issue with the clinical information on the web is that it is published without peer review. Unlike many of the articles published in medical, surgical and scientific journals, the viewpoints expressed on a website are often just that, unsubstantiated opinions with little or no oversight.
What you read may not be entirely accurate. This creates, in my opinion, a very dangerous situation for a newly diagnosed patient. An individual starving for information without the expertise to critically review the information presented is a very compromised position.
So, what do you do? Well, you take a deep breath, involve your closest family and friends, include your family doctor, and critically analyze the information available to you. Print the information from a few online sources. Study the materials and begin to formulate questions. The ANA website offers a comprehensive list of suggested questions to ask your doctor to help you get started!
The ANA website also provides a wealth of information and brochures written and reviewed by their medical advisory board for you to begin your education. Take some time to review previous NOTES newsletter publications and watch videos of previous webinars on a variety of topics presented by experts in the field.
You should also consider gathering all of your relevant health records, imaging and audiograms so the information is readily accessible as you seek opinions on your treatment options. Review what you know about your tumor, like size, shape, and location as well as understand your individual symptoms and current level of hearing.
Speak with other Patients and Family
I cannot recall a single patient who was not frightened and anxious about their diagnosis and the road ahead that did not benefit from speaking with someone that has been through it. Knowing that others have traveled a similar road and can share their successes and pitfalls, can provide you with a sense of security and alleviate feelings of aloneness.
ANA has a local network of support groups that likely meet near your hometown or are certainly reachable by phone or email, through their willing to talk list and in their online forum community. This is a critical resource and an experience that most consider a tremendous blessing. It is wonderful to see how many patients benefit from this mechanism of support and then become participants in the process after they have made their treatment choices. The information gained may lead you to the next step of the journey.
It is imperative, however, to remember that the ultimate choice you make must take into consideration the knowledge and advice of an experienced and trusted physician in the field.
Identify a Center of Excellence and a team that feels right to you
How do I find an experienced and trusted physician in the field you might ask? Well, it is possible that after completing steps 1 and 2, you may have narrowed the field considerably.
First and foremost, remember this is a very delicate situation for you and you should feel entitled to care at a program with extensive acoustic neuroma experience! Experience can translate into shorter operative times and hospital stays, complete tumor removal, fewer complications and improved quality of life! The concept of 'Center of Excellence' specifically refers to a program that has a dedicated treatment team that includes multiple specialties, tracks and measures outcomes, works with a high volume of patients, and has ongoing education and research initiatives to improve patient care at all levels.
Ideally, the program you select will be comprised of a multi-disciplinary team of doctors that can provide ongoing care before, during and after treatment. This includes specialties such as neurotology, neurosurgery, radiology, radiation oncology, neuro-oncology, neuro-intensivists, nurses, audiologists, vestibular therapists, and facial plastic and reconstructive surgeons that have devoted a specific piece of their lives to the care of patients with AN. Surgical treatment should be offered and performed by a team that involves both a neurotologist and a neurosurgeon. By selecting a center with extensive resources and AN experience you can ensure that you will be afforded completely individualized care based on your unique needs at the time you need it.
It is not enough anymore to demonstrate positive outcomes alone, although this is extremely important. We now know more than ever, that the care of AN patients does not end once surgery is over. The healing period and post-op resources needed vary greatly from patient to patient. Healing and moving forward from AN treatment can be both a physical and an emotional process as one adapts to their new normal. As with any rare medical condition, it is essential to feel understood and supported from all angles. Therefore, it is imperative to select a program that can and will provide compassion and long term communication with you and your loved ones.
Doctors must be board certified in their respective fields and have demonstrated a level of excellence in the care of patients with AN. It is critical to seek out a center that can perform all surgical approaches and radiation options so that the best treatment for your unique situation can be recommended and completed with a successful result. This means they should be able to provide information and care in all three treatment modalities; observation, microsurgery (middle fossa, retrosigmoid and translabyrinthine approach) and radiosurgery.
You are entitled to ask and receive information about each individual's level of experience. The center should demonstrate internal monitoring of outcomes through peer reviewed publications that you have the right to access. They should readily provide information on volume, operative times, hearing preservation, facial nerve preservation, views on subtotal versus total resection and expectations of your specific situation to name a few.
Lastly, you can go back to step 2. You can speak to patients who were treated at the center you are considering.
If there was one more important piece of information I can give you, it would be to empower yourself! Demand, in a kind way, the information I have outlined above and be an active participant in your care. The choices you make impact your life forever.
This is an exciting time in the care of patients with AN. Go in with confidence. There are continual developments in microsurgical techniques and equipment, in the appropriate delivery of radiation and in our understanding of the basic molecular mechanisms underlying AN. These advances, no doubt continue to improve our ability to care for you safely.
Rules of Thumb:
Observation is a reasonable option when tumors are small (<1.5-2.0cm) and minimal symptoms.
Understand that many tumors will not grow for some time, if at all. The average growth rate reported is 1.5mm/year.
Observation means just that, you must have consistent (at least yearly) MRI follow up.
Keep in mind, if hearing is an issue it is very likely that hearing will decline over time even if the tumor does not grow.
Tumors over 2cm or with significant brainstem compression (headache, facial numbness, severe disequilibrium) should be considered for treatment.
Radiosurgery is another option for small to medium tumors (<2.5cm).
The literature is very difficult to interpret (as it is for microsurgery) and one must be in the care of an experienced and trusted radiosurgeon.
The long term effects of radiation are still unknown, so one must consider your age at the time of treatment. As with microsurgery, there are immediate risks of facial palsy, hearing loss and dizziness.
Microsurgery is yet another option.
We generally favor this for young and/or healthy individuals. We also favor this approach for larger tumors (>2.5cm), but also, for small tumors with serviceable hearing that we attempt to proactively preserve for the long term.
Microsurgery carries with it the risks of facial palsy, hearing loss and CSF leak primarily. Hydrocephalus and stroke are extremely unlikely risks in the care of highly skilled surgeons. Surgeons should provide information about their facial nerve and hearing outcomes after microsurgery.
Note: In no case does ANA endorse any commercial product, physician, surgeon, medical procedure, medical institution or its staff.