The Great Brain Freeze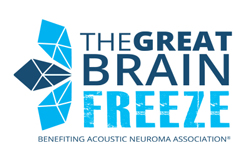 The Great Brain Freeze is the Acoustic Neuroma Association's signature winter fundraising theme encouraging friends, family and members of your local community to join you in taking an icy plunge to raise awareness and funds for the Acoustic Neuroma Association.
If brraving an arctic dip is not your cup of tea or your winter weather is always sunny, consider a pool party, ice cream social or group snowball fight. The possibilities to keep it cool for your fundraising are endless!
The Great Brain Freeze is the brainchild of Neil Donnenfeld, ANA Vice-President and AN patient. Neil's inaugural plunge into the chilly Atlantic Ocean took place on February 4, 2018 at Fisherman's Beach in Swampscott Massachusetts. Watch his story:
To get started on Your Great Brain Freeze: