Sponsor Spotlight
The House Clinic: A Long History of Success & Leadership In the Acoustic Neuroma Treatment Community
According to Frank J. Cracolici, president and CEO of St. Vincent Medical Center in downtown Los Angeles, the world-renowned House Clinic "attracts some of the best and brightest neurotologists and neurosurgeons in the world, dedicated to the treatment of disorders affecting hearing and balance, including acoustic neuroma and other types of brain tumors."
The clinic has evaluated and treated more than 10,000 patients with benign tumors involving the inner ear and surrounding structures since the early 1960's. "If surgical intervention is needed," Cracolici, added, "the House Associates partner with our experienced and highly skilled surgical team at St. Vincent to perform the procedure."
Founded in 1943 by Dr. Howard P. House, an ear, nose and throat specialist who later developed a national reputation for his many successful hearing restoration surgeries, The House Clinic now has eight ear specialists on staff. Six of the ear specialists perform ear surgery, one associate specializes in allergic diseases of the ear and one associate specializes in evaluating and treating dizzy patients. In addition to the ear specialists, there are two associates who specialize in neurosurgery.
Readers interested in learning more about the clinic, its staff and services are urged to visit its detailed website at www.houseclinic.com.
The clinic is located across the street from St. Vincent Medical Center at 2100 W. 3rd St., Los Angeles, CA 90057. Phone number is (213) 483-9930.
Sponsor Content
CONQUERING IT ALL IN 2017
BY RHONDA MARTINES
LAS VEGAS, NV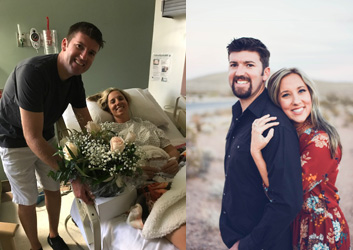 It was a typical day out with friends when I realized that the louder it was in the restaurant we were in, the harder it was to hear out of my left ear. This had gone on for over a year and I associated it with allergies and ear wax build up.
Later, when a friend questioned why I was reading their lips is when I realized I really couldn't hear well. I made an appointment with the ear, nose and throat doctor. They cleaned out my ears and started me on allergy shots.
After a few weeks, I still couldn't hear well out of my left ear and that it was even worse than it had ever been before. I went back to the ENT and he suggested I get an MRI. I received the news I wasn't looking forward to that I had a 1.4 cm tumor in my left ear. The doctor suggested three options for me and I could make the decision.
After research and reading, I made the decision to go with surgery and was recommended to see Dr. Eric Wilkinson at House Clinic Acoustic Neuroma Center at St. Vincent Medical Center in Los Angeles, California.
"Rhonda made a well informed decision to have surgery at House Clinic/St. Vincent Medical Center. Her outcome was excellent and it was amazing to see her walking on the beach just a few days after surgery," said Eric Wilkinson, MD, surgeon and partner at House Clinic.
I knew surgery was the best option even as scary as it was. I have never had major surgery nor have I ever had to stay multiple days in the hospital.
I decided before my surgery that I would live it up and spend the weekend before with my girlfriends at the Route 91 Concert in Las Vegas. Although I was not injured in the shooting, it would be the most traumatic experience I have ever had to endure. After the concert, I was numb to the fact that I was about to have a craniotomy a week and half later. I knew I needed to be strong and continue with the surgery even though my heart was breaking.
"Facing surgery so soon after the horrible events in Las Vegas took great courage. Rhonda is an inspiring person and it was truly a pleasure to get to know her and help her with her acoustic neuroma," said Gregory Lekovic, MD, PhD, neurosurgeon at House Clinic.
To my surprise, the staff at St. Vincent Medical Center and House Clinic was amazing after explaining what I had been through. I am now recovering well and was even able to walk on the beach a week post surgery. Strength and courage go a long way and I am forever grateful to be alive and well today.
American Ninja and Acoustic Neuroma Warrior
By Charlotte Eccles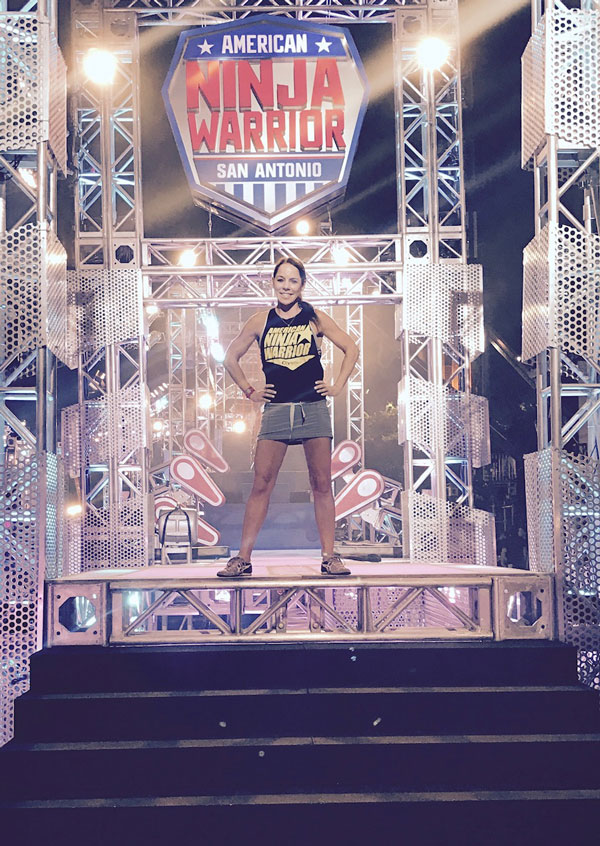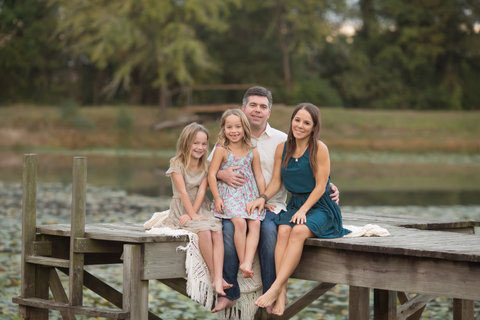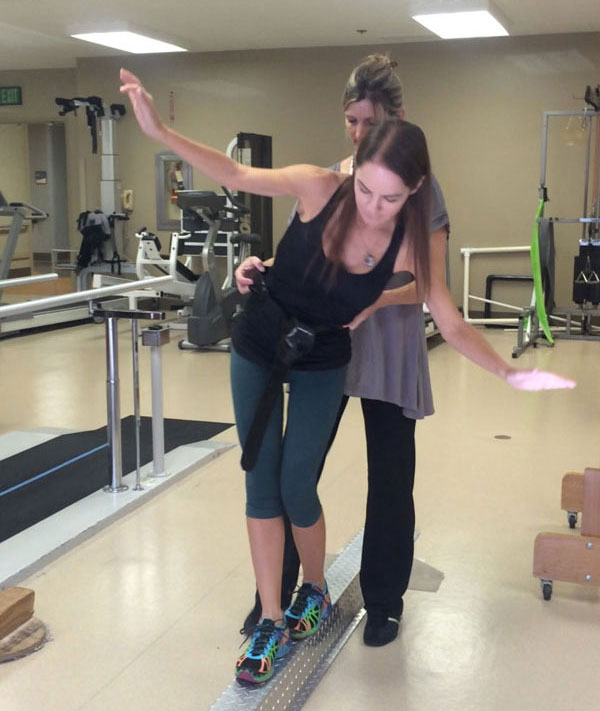 I knew from the day I was diagnosed with an acoustic neuroma that I would face struggle and hardship but I also made a promise to myself on that day that I would use my struggle to help others.
I was diagnosed 2 1/2 years ago with my acoustic neuroma and had a middle fossa craniotomy four weeks later with Dr. Derald Brackmann and Dr. Marc Schwartz at the House Clinic Acoustic Neuroma Center at St. Vincent Medical Center.
Although the surgery was a success because the tumor was removed and the surgeons were able to preserve my hearing, my balance nerve was cut during the operation. Immediately after surgery, I had significant challenges with balance and coordination. I also experienced temporary facial paralysis from compression to the facial nerve when my brain swelled in the ICU.
I was a mom with two young daughters. I'm a pediatric physical therapist that fiercely advocates for children with special needs to believe in themselves despite their differences. My life changed in a heartbeat. I was no longer the therapist. I was now the patient with a long road to recovery ahead of me.
I underwent aggressive physical therapy. I stayed out in California for a month and then went back to Houston to continue intense physical therapy.
Six months after surgery, I transitioned from a conventional outpatient physical therapy setting into a ninja gym, with a physical therapist and trainer who happened to be an American Ninja Warrior competitor. I remember the first day I walked into the ninja gym. All the obstacles that I saw were so parallel with the obstacles in life I was facing. In that moment, I knew it was going to be the place that I took back everything my tumor had stolen, physically, from me.
It's been a long journey for me. It has not only been a physical fight but a constant mental battle as well. But looking back, it has been an experience so valuable and one that I can honestly say I'm grateful for this blessing in disguise for I have become so much stronger and have grown in unimaginable ways.
The craziest part of the whole journey is that I was picked to compete this season on American Ninja Warrior. I competed in the Spring in San Antonio. My episode aired on June 19 (www.nbc.com).
I couldn't be more excited to share my journey with the world. If someone told me when I was laying in the ICU that in two years I would be competing on American Ninja Warrior, I probably would have cried and I definitely would not have believed them. It would have sounded like a cruel joke.
The opportunity to compete on the show means more to me than words can express. I want people to see the abilities in their disabilities and to recognize what a never give up attitude can do for them, to truly believe in no limitations and that anything is possible. I feel like all of us who have faced this adversity have been given a unique opportunity.
We get to use our adversity to be a light, to give others hope, and make a difference.
Note: In no case does ANA endorse any commercial product, physician, surgeon, medical procedure, medical institution or its staff.