House Clinic
Sponsor Spotlight
The House Clinic: A Long History of Success & Leadership In the Acoustic Neuroma Treatment Community
According to Frank J. Cracolici, president and CEO of St. Vincent Medical Center in downtown Los Angeles, the world-renowned House Clinic "attracts some of the best and brightest neurotologists and neurosurgeons in the world, dedicated to the treatment of disorders affecting hearing and balance, including acoustic neuroma and other types of brain tumors.
The clinic has evaluated and treated more than 10,000 patients with benign tumors involving the inner ear and surrounding structures since the early 1960's. "If surgical intervention is needed," Cracolici, added, "the House Associates partner with our experienced and highly skilled surgical team at St. Vincent to perform the procedure."
Founded in 1943 by Dr. Howard P. House, an ear, nose and throat specialist who later developed a national reputation for his many successful hearing restoration surgeries, The House Clinic now has eight ear specialists on staff. Six of the ear specialists perform ear surgery, one associate specializes in allergic diseases of the ear and one associate specializes in evaluating and treating dizzy patients. In addition to the ear specialists there are two associates who specialize in neurosurgery.
Readers interested in learning more about the clinic, its staff and services are urged to visit its detailed web site at www.houseclinic.com.
The clinic is located across the street from St. Vincent Medical Center at 2100 W. 3rd St., Los Angeles, CA 90057. Phone number is (213) 483-9930.
Sponsor Content
Air Force Doctor Impressed with His AN Treatment at The House Clinic
By Don Prial
For U.S. Air ForceColonel Dave Duval, the problem in his right ear was more of an annoyance than a concern. He had been a medical evacuation doctor serving with a squadron of Army Blackhawk helicopters during a tour of duty in Iraq in 2005-06.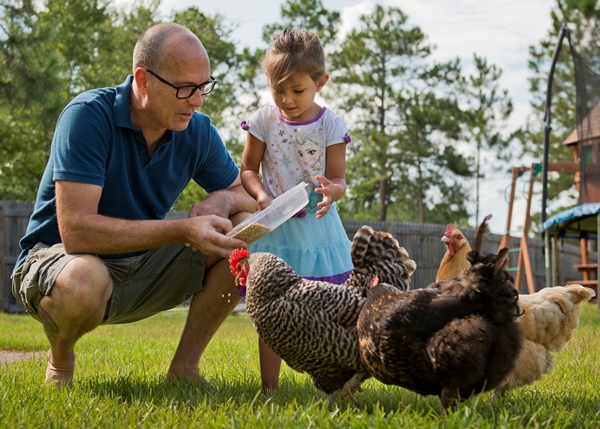 During his recovery, Dave Duval enjoys
feeding chickens with his daughter.
He first suspected that the hearing loss he was experiencing stemmed from the incredibly high noise levels produced during flights when radio communications did not always work and he was forced to remove his headphones.
However, nine years after he first became aware of his hearing loss, Col. Duval realized that something more serious was occurring inside his ear. He began to seek medical advice from his colleagues to diagnose and hopefully cure what ailed him. In 2012, he learned from an MRI that, in fact, he had an acoustic neuroma.
Col. Duval is head of aerospace medicine for the Air Force's Special Operations Command headquartered at Hurlburt Field in Florida. He had never even met anyone in his personal or professional life who had an acoustic neuroma.
"I realized through the results of my annual Air Force physical that my hearing was declining," Duval recalled. "And then when I started turning my head I became dizzy." Soon, his wife Caslyn, noticed that he would sometimes walk like he was drunk if he had no visible horizon onwhich to focus. "Soon, I needed a night light to even walk in a dark room."
Realizing that surgery most likely was his only alternative for recovery, Col. Duval did his due diligence and came across the extensive surgery programs offered by The House Clinic Acoustic Neuroma Center at St. Vincent Medical Center in Los Angeles."Like any inquisitive patient, I quickly realized that House was what doctors call a center of excellence in that they perform so many acoustic neuroma surgeries each year that their outcomes had to be superb."
It was a finding demonstrated in detail by Dr. William H. Slattery III, Vice President of the House Clinic. "Although these tumors occur in only one person in 100,000 nationally, we've done procedures for decades and I've treated more than 1,000 patients myself during my 23 years here at House," Dr. Slattery said.
Col. Duval noted that, at first, his insurance company tried to convince him to have the operation done nearby his base in Florida. "I talked to those guys and they were nice enough, but I learned that they might perform only 50 of these operations in a year, while House Clinic is operating on more than 200 cases annually. And I know as well as anyone that experience is what leads to great outcomes, so the trip to Los Angeles was a no-brainer."
What especially impressed Col. Duval was the level of professionalism — "beyond anything I could have asked for" — demonstrated by Dr. Slattery and his colleague, Dr. Marc Schwartz, a House Clinic neurosurgeon, including ensuring that his wife was present at all the briefings and conversations that took place.
According to Col. Duval, his recuperation since his June 2nd operation has progressed as predicted, noting that despite early experience with nausea, he has not felt any dizziness or related after-effects.
And what did he feel was the crucial ingredient in his recovery so far? "Sleep," he declared immediately. "It was a taxing experience, so it has just been sleep." Dr. Slattery concurs, adding that all parties are looking forward to a scheduled follow-up exam in a few months.
Note: In no case does ANA endorse any commercial product, physician, surgeon, medical procedure, medical institution or its staff.