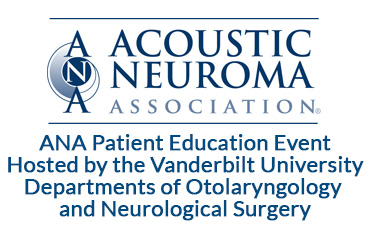 Saturday, September 29, 2018
7:30 AM - 3:30 PM
Vanderbilt University Medical Center
Langford Auditorium
2209 Garland Avenue
Nashville, TN 37232
Please join us for a day of education and support.
Registration will close Friday 9/21/18 at 12pm ET.
If you need assistance, please call us at 770-205-8211
or email Stephanie at This email address is being protected from spambots. You need JavaScript enabled to view it..

Presentations will include panel discussions on treatment options,
surgical approaches, advances in treatment and post-treatment
care, as well as research. There will also be sessions on vestibular
rehabilitation, updates in radiosurgery, facial reanimation, NF2 and
hearing rehabilitation after single-sided deafness. There will be
time for Q&A as well as networking.
The event is free and open to all, but registration is required.
If you need assistance, please call the ANA office at 770-205-8211 or email This email address is being protected from spambots. You need JavaScript enabled to view it..
For Attendees:
Free parking will be available in the 25th Avenue Garage. A parking pass displayed on your dashboard is required.
MAP PARKING PASS (please print and bring with you)
For those staying at the Courtyard Marriott/Nashville West End, a free shuttle will pick up at 7:00 am
and will drop off back at the hotel after the event at approximately 4:00 pm.