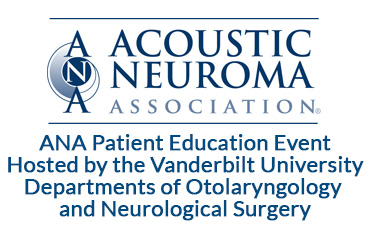 Saturday, September 29, 2018
7:30 AM - 3:30 PM
Vanderbilt University Medical Center
Langford Auditorium
2209 Garland Avenue
Nashville, TN 37232
Please join us for a day of education and support.

Presentations will include panel discussions on treatment options,
surgical approaches, advances in treatment and post-treatment
care, as well as research. There will also be sessions on vestibular
rehabilitation, updates in radiosurgery, facial reanimation, NF2 and
hearing rehabilitation after single-sided deafness. There will be
time for Q&A as well as networking.
A limited number of hotel rooms have been reserved at the
Courtyard Marriott/Nashville Vanderbilt West End
(Friday night only) at $189.
These rooms are first come, first served.
The event is free and open to all, but registration is required.
If you need assistance, please call the ANA office at 770-205-8211 or email This email address is being protected from spambots. You need JavaScript enabled to view it..