If you did not fill out an evaulation at the event,
we would appreciate you filling out our brief
PATIENT EVENT EVALUATION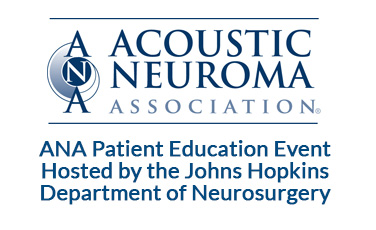 Saturday, May 12, 2018
8:00 a.m. – 4 p.m.
The Johns Hopkins Hospital
Tilghman Auditorium
720 Rutland Avenue
Baltimore, MD 21205
Please join us for a day of education and support.
This event is free and open to acoustic neuroma patients and caregivers. All presenters are physicians/healthcare providers
from the Johns Hopkins University School of Medicine. Lunch will be provided.
Registration is required and space is limited.
Panel Discussion of Clinical Scenarios
Rafael Tamargo, M.D., Director of the Acoustic Neuroma Center, Walter E. Dandy Professor of Neurosurgery
John Carey, M.D., Director of the Division of Otology, Neurotology and Skull Base Surgery, Professor of Otolaryngology-
Head and Neck Surgery
Michael Lim, M.D., Professor of Neurosurgery
Wade Chien, M.D., Associate Professor of Otolaryngology-Head and Neck Surgery
Moderated by Henry Brem, M.D., Chairman and Harvey Cushing Professor of Neurosurgery


Additional Sessions
Hearing Restoration
C. Matthew Stewart, M.D., Ph.D., Assistant Professor of Otolaryngology-Head and Neck Surgery
Vestibular Rehabilitation
Jennifer Millar, M.S., P.T., Vestibular Physical Therapist
Facial Reanimation
Kofi Boahene, M.D., Associate Professor of Otolaryngology-Head and Neck Surgery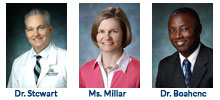 Information for attendees:
Check in opens at 8:00am. Breakfast will be provided from 8:00-9:00am.
The program will begin promptly at 9:15am and end at 4:00pm.
Our program is in the Tilghman Auditorium which is on the ground floor of the Turner Auditorium building (see building diagram). The street address is:
720 Rutland Avenue
Baltimore, MD 21205
There is a drop-off area in front of the building near the security guard station.
There are two options for parking.
Rutland Garage- $12- Directly across from Turner Auditorium
1821 E. Madison Street
Spaces are limited. Tell attendant you are going to the ANA Patient Event.
Washington Street Garage- Free Parking (1 ½ blocks east of Turner Auditorium)
701 N. Washington Street
Directions to the event from parking: Walk down East Monument Street to Rutland Avenue.
A security guard station is located at the entrance to the patio in front of the Turner Auditorium building. The guard can direct you across the patio to the Miller Research building entrance (the Turner entrance is closed on Saturdays, but the buildings are connected on the ground level). Inside the Miller Research building the elevator will lower you to the ground level across from the Tilghman Auditorium.
Both garages are marked on the attached map.
If you need assistance, please call the ANA office at 770-205-8211 or email Stephanie Rommer at This email address is being protected from spambots. You need JavaScript enabled to view it..