New York City, NY Support Group Info
NEW YORK CITY, NEW YORK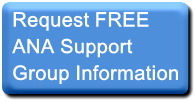 LOCAL SUPPORT GROUP MEETING INVITATION
Please plan to join us at the next meeting of your local Acoustic Neuroma Support Group. We welcome you to learn about the latest treatment options, to network with other acoustic neuroma patients and find encouragement and support.
DATE/TIME:
Wednesday, April 15, 2015
7:00 - 9:00 p.m.
MEETING LOCATION:
NYU Langone Medical Center
Skirball Institute Conference Room (3rd floor)
550 First Avenue @ 32nd Street
New York, NY 10016
DIRECTIONS TO CONFERENCE ROOM:
When you enter the building, make a left and follow signs for D elevator (through glass doors).
Take D elevator to the 3rd Floor
When you exit the elevator, make a right and the conference room is in the right corner.
TOPICS:
Group Discussion - Communication Issues and hearing Strategies
Please join us for a moderated group discussion on various hearing related issues including tinnitus, hearing aids/devices and communication strategies. Whether you are newly-diagnosed or many years post-treatment, we welcome you to discuss symptoms, solutions and strategies for dealing with a variety of hearing related issues
FOR ADDITIONAL INFORMATION OR TO RSVP, CONTACT YOUR LOCAL SUPPORT GROUP LEADERS/FACILITATORS:
Lauren Goldberg, Local Support Group Leader/Facilitator
Phone 917-547-0572 or Email: lbgoldberg24@gmail.com
Miranda Warren Sacharin, Local Support Group Leader/Facilitator
Phone 646-964-4679 or Email: m.sacharin@gmail.com
Lauren Goldberg, a post-treatment acoustic neuroma patient, and Miranda Warren Sacharin, family member/caregiver to a post-treatment acoustic neuroma patient, will facilitate the meeting.
Who should attend? Family members, caregivers, friends and interested persons are encouraged to attend.
Benefits of attending a local support group include communicating in a nurturing, non-judgmental environment with others who have shared a common acoustic neuroma experience; sharing information on dealing with specific problems, overcoming handicaps and reassuring others that better times lie ahead; educating and informing each other about the latest acoustic neuroma topics of interest; and providing emotional support to all patients, both pre- and post-treatment. This helps in reducing the isolation and loneliness that many acoustic neuroma patients feel.