Support Group Overview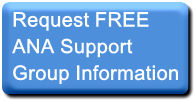 "We have faced a common trauma – coping with an acoustic neuroma. Face-to-face group meetings give the opportunity to be with others who truly understand. By sharing how we have coped and been helped by receiving medical information from professionals who may be new to us, we can restore ourselves by the strength furnished by a caring community." Ginny Fickel Ehr, ANA Founder.

Local support groups are a vital extension of the support network that ANA members can provide for one another. The local support groups provide an opportunity for networking and are able to assist in social and personal support for all acoustic neuroma patients including newly diagnosed, watch and wait and previously treated acoustic neuroma patients, their family members and any interested persons in the local area.
Benefits of joining a Support Group include:
Communicating in a nurturing, non-judgmental environment with others who have shared a common acoustic neuroma experience.
Sharing information on dealing with specific problems, overcoming handicaps and reassuring others that better times lie ahead.
Educating and informing each other about the latest acoustic neuroma topics of interest.
Providing emotional support to all patients, both pre- and post-treatment. This helps in reducing the isolation and loneliness that many acoustic neuroma patients feel.
For additional information, contact our Local Support Coordinator at 1-877-200-8211 or via email, This e-mail address is being protected from spambots. You need JavaScript enabled to view it .

For an ANA Local Support Group in your area, please click here.

For a calendar of ANA Local Support Group meetings, please click here.

To request a free ANA packet of information, please click here.
With our free packet of information, you will find answers to many of the questions you may have about acoustic neuroma and what the Acoustic Neuroma Association (ANA) can do for you. Included in the packet are names of persons who are willing to talk about their acoustic neuroma experience, as well as ANA publications that provide helpful information such as treatment options and questions to ask your doctor. Our quarterly newsletter, Notes, will also be included in your packet, and booklets on specific topics such as Balance, Headache, Facial Nerve, Hearing and Eye Care are also available upon request.
Testimonials
Testimonials from ANA members describing the positive impact received from attending a local support group meeting:
"I remember how desperately I wanted to be able to talk with someone. I feel one of the many benefits provided by our group, is its ability to provide encouragement and compassion for the newly diagnosed." Greg from DC
"I have found all the meetings that I have attended to be very informative and have made several ´friends´. I have found it best to talk with individuals who have just started their AN journey and share my successful outcome." Joe from New Jersey
"My greatest reward from attending this group is watching newly diagnosed patients attend a meeting and having the opportunity to meet a variety of people with many treatment types as they weigh all their options. I see the hope in their eyes appear as they learn we have all survived, and life after an AN is possible." Joan from Florida
"I had great support from my family and friends, but they could not understand my concerns, thoughts and feelings. I never knew anyone who had any type of brain tumor, so it seemed, at times, that I was going through this alone. Coming to the support group allowed me to meet people who also had a vestibular schwannoma. Even though our conditions may differ, it is a great feeling to relate to others." Jennifer from Florida
"The group gave me hope and made me realize that I wasn´t alone. There were many others out there who shared similar problems to mine, and we were bonded on that basis. Together, we can make a difference for others who are newly diagnosed and those who have difficulty dealing with their present reality." Carol from Florida
"It has been very meaningful for us to share and learn from others who can truly understand the daily challenges we all face with acoustic neuroma. We are constantly seeking out solutions to make our lives better. We are reminded at each meeting that there is life after acoustic neuroma!" Gail and Elaine from Michigan.
Membership in ANA provides the following benefits:
ANA Quarterly newsletter, Notes
Patient information booklets
Local support group network - national access
Access to many of the speaker presentations from the 2009, 2011 and 2013 ANA Symposiums
Access to both the audio and PowerPoint presentations of past ANA Webinars
Website availability with ANA Discussion Forum
To join ANA please click here.
Acoustic Neuroma Introduction
Acoustic Neuroma Association • 600 Peachtree Parkway • Suite 108 • Cumming, GA 30041 • 770-205-8211 • FAX: 770-205-0239