Weill Cornell Medical College

Philip E. Stieg, Ph.D., M.D.
525 E. 68th Street
Box 99
New York, NY 10065

Telephone: 212-746-4684
Fax: 212-746-6607
www.weillcornellbrainandspine.org/faculty/philip-e-stieg-md-phd

Samuel H. Selesnick, M.D., F.A.C.S.
1305 York Avenue, 5th Floor
New York, NY 10021

Telephone: 646-962-3277
Fax: 646-962-0030
www.weillcornell.org/samuelselesnick/

About the Center
The Center for Skull Base Surgery at the Weill Cornell Medical College at the New York Presbyterian Hospital offers comprehensive state-of-the-art care for the patient diagnosed with an acoustic neuroma. The team, led by Dr. Selesnick and Dr. Stieg, functions as a consortium, bringing together expertise in neurotology, neurosurgery, radiation oncology, neuro-anesthesia, intraoperative cranial nerve monitoring and nursing. Serial observation, Gamma Knife radiation, X knife radiation and surgical approaches including the retrosigmoid, translabyrinthine and subtemporal middle fossa are all treatment modalities that fall under the expertise of our physicians.
Philip E. Stieg, Ph.D., M.D.

Chairman and Professor of the Department of Neurological Surgery
Neurosurgeon-in-Chief, New York Presbyterian Hospital

Medical School: Medical College of Wisconsin, Milwaukee, WI, 1983
Internship: University of Texas Southwestern Medical School, Dallas, TX, 1983-1984
Residency: University of Texas Southwestern Medical School, Dallas, TX, 1984-1987
Fellowship: Cell Transplantation for Restorative Neurological Function, Karolinska Institute, Stockholm, Sweden, 1987-1988
Board Certification: Neurosurgery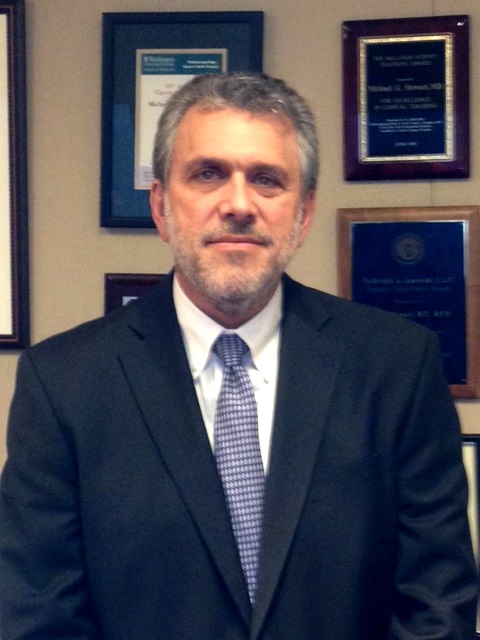 Samuel H. Selesnick, M.D., F.A.C.S.

Vice Chairman and Professor of Otolaryngology

Medical School: New York University School of Medicine, New York, NY, 1985
Residency: Manhattan Eye, Ear, and Throat Hospital, New York, NY, 1990
Fellowship: University California, San Francisco, CA 1991
Board Certification: Otolaryngology
Acoustic Neuroma Introduction
Acoustic Neuroma Association • 600 Peachtree Parkway • Suite 108 • Cumming, GA 30041 • 770-205-8211 • FAX: 770-205-0239